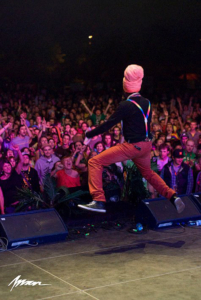 One of Reggae music's most unusual and fascinating artists, Perfect Giddimani was born as Greg Rose in Bamboo, St Ann, Jamaica. His mother sang in church and his grandfather had a banjo band, so Perfect was exposed to music from his birth. His father repaired jukeboxes so Perfect had access to many genres of music including Soul, Country, Pop, and Reggae and he would sing the songs back with the instrumental side of the records. After High School, Perfect would DJ on Sound Systems and eventually he headed to Kingston where he began honing his skills performing in clubs and recording in many of the top studios.
Perfect and his brother Kirk opened the first digital recording studio in their hometown of Bamboo named Askum with the help of their father who brought in some of the latest studio gear from New York. They taught themselves the art of recording through trial and error and reading the equipment manuals for days. It wasn't long before they were producing music for themselves and other local talent. Perfect made the rhythms with drums and the keyboard and Kirk recorded the vocals. Together they formed the Chalice Palace Music label.
In Kingston Perfect started recording for many of the producers there which resulted in his getting radio play on the big Jamaican radio stations. He met the producer Rebel Chris who gave him the riddim on which he recorded "Handcart Boy", the single that catapulted him to fame worldwide. "Handcart Boy" hit the number one spot on the charts in Jamaica and Germany and was quickly followed by "All I've Got", "No Badda Me" and "Johnny". The success of these singles led to tours in Europe, the US and South America where he performed on many of the major festivals including Summerjam, Rototom Sunsplash and Reggae Jam in Europe and Reggae On The River and The Sierra Nevada World Music Festival in California.
https://youtu.be/nzqUS7cwDG0
Perfect Giddimani – World Boss Selassie – 2017
https://youtu.be/DbA6sw2pMXg
Perfect Giddimani – live at Uprising Reggae Festival – 2013
https://youtu.be/0k2Up5rbuzs
Perfect – Handcart Bwoy – 2007
To date Perfect Giddimani has released thirteen albums and hundreds of singles. His last album "Live My Life Again", released in 2017, hit the number one spot on the Billboard chart, knocking off Damian Marley. Other more recent career highlights include "Rastafari Way", a song he produced on his Giddimani Records label, being featured in the latest 2021 James Bond movie "No Time To Die" and his song "Ganja Spliff" from his first album "Giddimani" was featured in the movie version of "Nash Bridges", also in 2021.
Currently Perfect Giddimani is completing a new album "Give Me My Flowers" with producers Andrew Moon Bain and David (Jah David) Goldfine from Zion I Kings and Laurent (Tippy) Alfred from I-Grade Records out of the US Virgin Islands. This album is scheduled for release in early 2023.
With his scintillating stage presence, Perfect Giddimani continues to be in great demand for shows and festivals worldwide. Perfect Giddimani started as a roots artist and will always be a roots artist although, as the music scene changes, some of his songs are recorded on Dancehall beats. Even as he changes with the music environment, Perfect Giddimani always stays true with his conscious, positive lyrics. In his words "We keep it 100% clean, conscious and with a message".