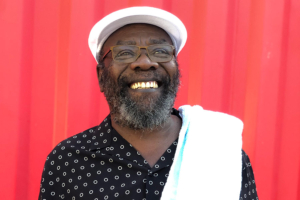 Since his early teens Clinton Fearon has been a composer, songwriter, singer and player of instruments. Born in Jamaica, at the age of 19 Clinton became the bassist, vocalist and lyricist with the mythic Gladiators. He spent 18 years with the Gladiators and during that time he wrote and sang lead vocals on several of their classic hits such as Chatty Chatty Mouth, Richman Poorman, On The Other Side, Can You Imagine How I Feel, Let Jah Be Praised, One Love, Untrue Girl, and more.
Clinton also worked as a session musician for different studios in Jamaica including working with producers Coxsone Dodd at Studio One and Lee 'Scratch' Perry at Black Ark. He also worked at Chanel One, Aquarius, Harry J and Randy's. At these studio recording sessions, Clinton composed everlasting bass lines for well-known artists such as Yabby You, Jimmy Riley, Max Romeo, Junior Byles and many others.
In 1987 Clinton left Jamaica and settled in Seattle. At the end of a US Gladiators tour, he and some of the other musicians from The Gladiators took advantage of the extra time remaining on their work visas to stay in the US and start a band in the Northwest called The Defenders. The band worked together for five years and built a nice following until they eventually broke up. In the mid- 90s, Clinton formed his own band with local Seattle musicians they called, Clinton Fearon and Boogie Brown Band. In 2019, in Europe, Clinton Fearon also teamed up with The Riddim Source who backed him on his live performances in Europe. He also recorded his last album with them called Breaking News.
Clinton Fearon has recorded thirteen albums under his own name and he currently tours the world with an impressive repertoire of songs accompanied by a band or on solo acoustic performances. He has performed on many major festivals on each of the continents. In the US he has performed on the Sierra Nevada World Music Festival, Reggae On The River, The National Folk Festival, Festival International de Louisiane, Houston International Festival, Salmonstock, Ithaca Reggae Festival and others. In Canada he has performed on The Latin Caribbean Festival, Victoria Ska Reggae Festival, World Beat Festival and others. In Europe he has performed on WOMAD, Rototom Sunsplash, Garance Reggae Festival, Printemps de Bourges, Stimmen festival, Celtic Connection and others. In Brazil he has performed on Virada Cultural, Republica Do Reggae, World Music Festival, Feira de Santana and others. He has also performed in Africa in Kenya and the Ivory Coast and he has also performed in Peru, Honduras, New Caledonia and Hong Kong.
Clinton Fearon has also recorded collaborations with other artists such as Alpha Blondy Together Again, 2019, The Movement Mountain, 2020, Manjul Long Time No See, 2021, Mike Love Medicine Man, 2022 and others.
Clinton Fearon's songs deliver strong messages coming from the heart of a man who is dedicating his life to help a better world to come. With chiseled music and poetic lyrics, Clinton opens reggae to a wider audience who simply love his beautiful songs.
Clinton Fearon – On the Other Side (Live at Baco Studio, Mar 22, 2021)
https://www.youtube.com/watch?v=s0sOHofIiw0
Clinton Fearon – Festival de Néoules 24/07/2021
https://www.youtube.com/watch?v=n-bhYPpeJYw
Discography:
Disturb The Devil (1995)
Mystic Whisper (1997)
What A System (1999)
Soon Come (2002, compilation)
Give And Take (2004)
Mi An' Mi Guitar (2005)
Vision (2006)
Faculty of Dub (2008)
Mi Deh Yah (2010)
Heart And Soul (2012)
Goodness (2014)
This Morning (2016)
History Say (2019)
Breaking News (June 2022)
"My music is roots reggae from the island of Jamaica. I grew up deep in the hills, up in St. Catherine, surrounded by nature, beauty and hard work. Even as a child, I knew I wanted to be a musician and began my career singing in church and at school, and eventually built my own guitar! As a teenager, my journeys took me to Kingston where I met many musicians and began writing and recording music. The Skatalites, Motown artists and Jamaican musicians who came before me all influenced my music.
I write from my heart. The world is full of inspirations… nature, people, politics, love. I write about them all. My music is good for the soul – always with a message of hope and betterment for tomorrow. It's good for dancing, good for listening and I think it's good for all."
Clinton Fearon
SOCIAL MEDIA
Facebook https://www.facebook.com/ClintonFearonMusic
Instagram https://www.instagram.com/clintonfearon
Youtube http://www.youtube.com/user/ClintonFearon
Website http://www.clintonfearon.com
Twitter https://twitter.com/clintonfearon Soundcloud
https://soundcloud.com/clintonfearon
LIVE VIDEO (selection)
Reggae On The River, California 2011 https://youtu.be/5TQY5IMcn0U Sierra Nevada World Music Festival, California 2014 https://youtu.be/zxAqF1D4_Nk
Babel Med Fest, France 2014 https://youtu.be/V_jIteQcDvk
Rototom Sunsplash, Spain 2015 https://youtu.be/XGx4UF3rKWs
Ithaca Reggae Festival, New York 2018 https://youtu.be/lIyoHzArLgA
Republica Do Reggae, Brazil 2019 https://youtu.be/g7hCq4xPiTY
L'Astrolabe, France 2019 https://youtu.be/-k2GpWsfInk
Goa Sunsplash, India 2021 https://youtu.be/qSyBjFnJkzs
Festival de Neoules, France 2021 https://youtu.be/n-bhYPpeJYw
OFFICIAL MUSIC VIDEO (selection)
Long Time No See (Manjul featuring Clinton Fearon), 2021 https://youtu.be/a1sAKuW8q2k
Sleeping Lion (Live at Baco studio), 2021 https://youtu.be/pbsKDxCsZx4 On The Other Side (Live at Baco studio), 2021 https://youtu.be/s0sOHofIiw0 Fix It (single), 2020 https://youtu.be/dlrKeGBGbKM
Together Again (Clinton Fearon feat. Alpha Blondy), 2019 https://youtu.be/0d8wfInVBQo
Why Worry (History Say album), 2019 https://youtu.be/Lr8abFANyCI
Time (History Say album), 2019 https://youtu.be/V2msWZx5t58
Waiting (This Morning album), 2016 https://youtu.be/L5DYnOcQ8So
Poor Nana (Goodness album), 2014 https://youtu.be/jYJEZLc2QKQ
Let Jah Be Praised (Heart And Soul album), 2012 https://youtu.be/zCMAHlxHiLM