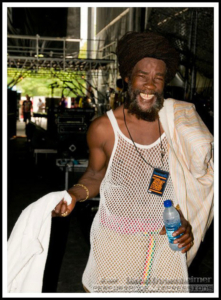 The Itals are still in full bloom, vital and bearing ripe fruit. Out of Savana La Mar, Jamaica, for many years Keith Porter and the Itals have been one of the hardest working reggae acts out there – still fresh, strong and in good health and spirits. The Itals have the drive and perseverance to perform in some of the farthest outposts where they are greatly loved and respected by their fans. The Itals have been one of the forefront touring reggae acts since the early eighties spreading the message of love and oneness to humanity. You hear their music playing all over the world. Keith Porter has proven himself to be one of the strongest artists in the business. His endurance is remarkable; he "never gets weary". The Itals are living examples of the "Rasta Philosophy" – the album that was nominated for the Grammies.
Please check out their videos:
Keith Porter – In A Dis Ya Time (May, 2020 Official Video)
https://www.youtube.com/watch?v=bhIDhxzC9Qk
My Way Or The Highway
https://www.youtube.com/watch?v=UhnasIPLeoE
The Itals In A Dis Ya Time, June 2012
https://www.youtube.com/watch?v=wrOuCNwFtls
The Itals – Brutal, Oct 2009
https://www.youtube.com/watch?v=6NprtQ6kwiY
The Itals – Satisfaction, June 2008
https://www.youtube.com/watch?v=YG4el7M-lc8
Love Me Twice, All Night and a cover of Imagine by John Lennon were the first singles released from their latest album Get it On. Also recently released was the repackaged Itals compilation Mind Over Matter, which has been out of print for several years and features many of their biggest hits. The Itals previous release was For The Good Times. The Itals DVD My Way High Way is also currently available featuring a song from their 2011 release – Let Them Talk.
Keith Porter got his start in1967 then known as the Westmorelites (named after Jamaica's Westmoreland parish where Keith grew up) with the hit single "Hitey Titey" which he recorded for Clement "Coxsone" Dodds' of Studio One. In 1976 he came out with the classic hit single – "Ina Dis Ya Time" Shortly thereafter he formed a vocal trio called the Itals that included harmony vocalists. Their name came from the Jamaican patois word meaning natural or pure. The Itals were soon recognized as one of reggae's premier "harmony groups." In contrast to the violence and sexism that runs through some of dancehall's most popular tunes, the Itals' roots reggae sound remains focused on positivity, love and harmony.
"Got to reveal, got to reveal. The truth that is hid, has got to reveal", chant the Itals. "Sing farewell to my enemies. Sing farewell to my enemies — Alphas love is over me." The Itals songs are always uplifting. "Temptation is a thing trying to keep me away from Jah glory. I love, I love, I love – Jah glory." When the Itals hit the stage, "Jah glory" is in full manifestation.
BIOGRAPHY: THE ITALS
Long before the Itals were a spark in their producer's eye, Keith Porter recorded his first hit single, "Hitey Titey", with the Westmorelites on the Studio One label in 1967. Around 1969, Keith became lead singer for a band named Soul Hermit, backed by Eugene Gray and Wignal Henry on guitars, and Reginald Seewell and Nash on base and drums. They played in numerous entertainment sectors of Jamaica until Owen Sinclair put together a new band in 1971. Called Future Generation, the band was composed of Dalton James and Roy Hilton on drums, Devon Henry on keyboards, Eugene Gray, guitar, Scott on sax, and Keith on vocals. They performed all over Jamaica for X amount of years, singing all styles of music, American R&B and love songs and native Jamaican songs.
Tiring of the club scene around 1975, Keith ran into Ronnie Davis on Orange Street in Kingston and asked him who was auditioning. Ronnie gave him a cassette with a rhythm he'd just had a hit on. "I was so happy with that rhythm I didn't look any further," says Keith. "In less than a week I had written Ina Dis Ya Time and came back to Kingston to record it for Lloyd Campbell's SpiderMan label. Lloyd felt it needed some harmonies with my lead, so Ronnie and I both added harmony parts. There was no intention of forming a group called the Itals; the record first came out as Keith Porter. After the song was on its way to becoming a hit in Jamaica, we all went out to do some promotion. Lloyd, Ronnie, myself and Brian Thomas of RJR were sitting out back in the cantina, when Brian said 'why not call them the Itals', because now there was more than one person singing. Everyone liked that name. It sounded good, so all of a sudden, Itals was a group. It was never intentional. I've always wondered if the name was the result of Brian noticing how strict I was about the food I ate, strictly Ital."
Campbell quickly repressed the record as 'the Itals' to meet demand. Today the song remains the Itals' signature tune, and has been described by Keith Richards of the Rolling Stones as "the perfect reggae track". It is included on the Rolling Stones' Artist Choice CD, released in 2003, available through Starbucks Coffee from Hear Music, a division of EMI, and in selected major chains.
The success of "Ina Dis Ya Time" saw the group return to the studio with the addition of Lloyd Ricketts singing a third harmony part on a series of superb recordings for the SpiderMan label. Tunes like "Don't Wake The Lion," "Brutal," and "Temptation" followed on 7″ release in Jamaica and New York in '77 and '78, establishing the Itals among the best Jamaican singers and songwriters. The Itals were twice finalists in the Jamaica Festival Song Competition, and their 1981 tune, "Jamaican Style," earned them a place at Reggae Sunsplash that year. 1982 saw the release of the first Itals' album, "Brutal Out Deh" on Nighthawk Records. The Itals toured the US and Canada backed by the Roots Radics. Their second album, "Give Me Power," was released to critical acclaim and hit #1 on CMJ's Reggae Route chart. In 1985, Pollstar Magazine placed them in the top 100 artists of the year.
Their third album, "Early Recordings," gathers together all the Itals' early singles and several rare pre-Itals tracks for a collector's feast from Nighthawk. The Itals' fourth recording, "Rasta Philosophy," won a Grammy nomination for best reggae album in 1987, followed by "Cool And Dread." Next came the Rhythm Safari album "Easy to Catch", followed by "Modern Age" on Ras Records. The Itals continued touring throughout the U.S., Canada and Europe.
Over the years, the Itals have performed countless shows worldwide. Although the background harmonies sometimes change, they always sound as sweet as ever, backing the original Itals lead vocalist, Keith Porter. Now, with the release of "Mi Livity," Mr. Porter steps a little further out front and demonstrates why good reggae music allows no labels or limitations.