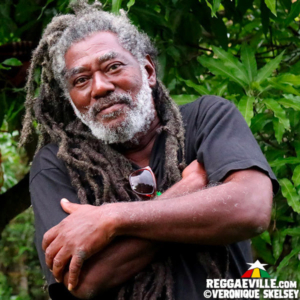 One of Jamaica's most outstanding vocal talents is the classic icon Johnny Clarke. Clarke grew up in the Kingston ghetto of Whitfield Town and attended Jamaica College. In 1971 he won a talent contest in Bull Bay and his prize was a meeting with the producer Clancy Eccles with whom he recorded his first song, "God Made the Sea and the Sun", the following year. Clarke is known for his so-called "African Roots" or knee-length dreadlocks, which, when performing live, he frequently conceals inside a large hat. At the climax of his concert, he removes his hat, revealing his "African Roots" to the audience.
JOHNNY CLARKE with Dub Asante Band and Matic Horns – Live @ Mekudeshet festival 19.9.19
https://www.youtube.com/watch?v=FtQ88Sfl4uc
Johnny Clarke 'Declaration of Rights' live at Band on the Wall
https://www.youtube.com/watch?v=6yO9SCPYBD4
Johnny Clarke @ Reggae Jam 2016
https://www.youtube.com/watch?v=wcUtWoc-pBc
The Best 10 Songs – Johnny Clarke
https://www.youtube.com/watch?v=uMyj81SPCKg
Johnny Clarke – Strickly Reggae Music (2020)
https://www.youtube.com/watch?v=jWJSqrThLvw
During the mid- through late '70s, Johnny Clarke recorded a stream of hit songs as well as a bundle of seminal albums. Rupie Edwards was the producer of Clarke's first hits in 1973, with "Everyday Wondering" and "Julie". In 1974. Later Clarke recorded "Jump Back Baby" for Glen Brown, before beginning a long association with Bunny Lee and his band The Aggrovators. "None Shall Escape the Judgement" was an immediate success and became the title track on Clarke's debut album.
Clarke was named Artist of the Year in Jamaica in both 1975 and 1976, and became one of the most popular singers on the island, mixing original songs with covers of popular reggae songs by other artists, and mixing roots and lovers-themed material. Many of Clarke's songs concern his faith as a Rasta and the beliefs of the Rastafari movement, including anti-violence (as on "Let Go Violence") and legalization of marijuana ("Legalize It"). He helped define the "Flying Cymbals" period that preceded the "Roots Rockers" sound of the mid- to late 1970s. Clarke was one of the first Jamaican artists signed to Virgin Records Frontline subsidiary in 1976, releasing the albums Authorized Version and Rockers Time Now on the Virgin Records label. Clarke got further hits in the early 1980s with producer S Douglas, before working again with Lee. He relocated to London in 1983, recording with Mad Professor, as well as doing further recordings for Jamaican producers King Tubby, Errol Thompson and Prince Jammy.
Clarke has also had an inestimable impact on the dancehall scene, which in his day was still the preserve of DJs. His ability to write new lyrics, mostly in a cultural vein, to classic rocksteady hits opened the dancehall door for vocalists, and most critics acknowledge him as the first of the dancehall singers. Certainly his influence on such artists as Sugar Minott is evident.
Clarke was born in Whitfield Town, Jamaica, in January, 1955. He began his career in the talent contest circuit, and a win in 1971 at Tony Mack's talent show brought him a meeting with Clancy Eccles. The producer was impressed enough to record the singer's debut single, "God Made the Sea and the Sun." Later on he hooked up with producer Rupie Edwards. He immediately scored a clutch of hits. "Julie," "Everyday Wondering," and "Ire Feelings" all shook the charts in 1973.
The following year, Clarke cut a number of singles for a variety of different producers, including "Jump Back Baby" for producer Glen Brown. However, although Clarke was already a well-known, it was after he joined forces with producer Bunny Lee that Clarke reached his full potential. Lee, who had made his name in the rocksteady era and helped inaugurate the shift to reggae, was undergoing his own period of creative brilliance, introducing the "flying cymbal" sound that swiftly became his trademark and earned him the nickname "Striker," whilst also delving into the possibilities of dub. Together the two men would unleash a host of unforgettable singles, opening with the massive hit "None Shall Escape the Judgement."
Intriguingly, Clarke divided his time between radical roots and exquisite lovers rock, with a third pole of remarkable cover versions. Over the next two years, the singer inundated Jamaica with hit singles including "Move Out of Babylon Rastaman," "Rock with Me Baby," "Enter Into His Gates With Praise," "Too Much War," "Joyful Festival." But most notable of all was a cover of Bob Marley's "No Woman No Cry," an international smash which sold a whopping 40,000 copies in Jamaica alone but was to have unforeseen consequences. The singer's first two albums, 1974's None Shall Escape the Judgement and the following year's Moving Out, were both hits-heavy collections while also boasting some hefty doses of cover versions. The U.K. Vulcan label's I'm Gonna Put It On, also released in 1975, featured both. The Trojan label would later also compile up much of this material for the Enter into His Gates with Praise album. Half the record was culled from None Shall Escape, with the rest rounding up other hits and covers. The British Attack label's Don't Trouble Trouble offered up more recordings from this period and includes songs that didn't make it onto None Shall Escape the Judgement album. Virtually all of the tracks, however, were worthy of inclusion on that debut record. There was little surprise when Clarke clinched the Artist of the Year award in 1975 and 1976 (and then annually for another three years after that).
In 1976, Clarke come to the attention of the Virgin label's Front Line subsidiary, to whom he signed. The new relationship was cemented with the absolute masterpiece Rockers Time Now. The production is a dream, the flying cymbal rhythms as sharp as a scythe, with Lee's house band, the Aggrovators, laying down a potent mix of roots, rock, and almost dreamy backing as always. With King Tubby giving it all a dubby mix, the record remains one of the crucial releases of the roots era. Again a mixture of originals and covers, Rockers is pure dread and boasts incredible versions of gems from the likes of the Abyssinians and the Mighty Diamonds; the former's "Satta Massa Gana" is an absolute stunner, as is the cover of the latter group's "Them Never Love Poor Marcus." Rockers Time Now was followed up by the fabulous Authorized Version album, produced by Bunny Lee and boasting another big hit, "Roots Natty Roots Natty Congo."
Clarke's third album of 1976, Don't Stay Out Late, was made available in Britain by the Paradise label. Don't Stay Out Late features such seminal songs as "Judgement Day" and "Blood Dunza." 1977 brought two more albums, Up Park Camp and Girl I Love You, both picked up for the U.K. Justice label, where Clarke now had a sizeable fan base. Both are excellent albums. Afterwards, Clarke inked a deal with Third World for his U.K. releases and kicked it off with 1978's Sweet Conversation, less dread than some of its predecessors, but boasting some exceptional John Holt covers. King of the Arena was a quick follow-up this same year. Better was Lovers Rock, a shared album with former Paragon Pat Kelly and Hortense Ellis (sister of the soulful Alton). A follow-up the next year, Lovers Rock, Vol. 2. Clarke was also paired by Bunny Lee with Barry Brown for the Sing Roots & Culture album, which featured a slew of hard-hitting cultural songs from both artists.
During this same period, Clarke was also mashing up the dancehalls in collaboration with Dillinger. A couple of years back, the DJ had utilized Clarke's "Move Out a Babylon Rastaman" rhythm for his own "Commercial Locks" hit. It was actually the third time around for the rhythm, and Clarke's own was based on John Holt's "Sad News." The two now paired up for a clutch of hits including "Empty Chair," "Waiting in Vain," and "Babylon Yard." Clarke also tried his hand at self-production for the wonderful "Jah Love Is With I," utilizing the potent talents of the Revolutionaries. He also took a seat behind the desk for recordings by Alphonso Love and Biddy Brown. The singer ended the decade with the Satisfaction album, while the Showcase compilation bundled up another batch of recent Bunny Lee-produced singles. Two compilations nicely showcase the best from this period. Originally Mr. Clarke from the Clock Tower label features the singer at his most dread, bundling up a clutch of Bunny Lee-produced rebel masterpieces. The U.K. label Blood & Fire adds rarities to the concept on Dreader Dread 1976-1978 and boasts a number of long-lost 12″ mixes.
As the '80s dawned, Clarke linked up with producer S Douglas and continued down his hit-strewn path. 1980 brought the seminal Down in a Babylon album, with the title track proving to be another sizable smash. The following year saw "Rude Boy," "Can't Get Enough," and "Guide Us Jah" all hit the charts. The singer rejoined Bunny Lee for the I Man Come Again. This new one found the singer performing with a full charge. 1983 brought a split album with Cornell Campbell for the Johnny Clarke Meets Cornell Campbell in New Style album, which found the singer moving effortlessly into the age of dancehall. Clarke's singles continued to clamber up the charts; "Give Me Love," "Young Rebel," "Get in the Groove," "Stop Them Jah," and the Joe Gibbs-produced "Like a Soldier" all impacted across the island over 1981 and 1982.
In London in 1983 he hooked up with producer Neil "Mad Professor" Fraser and recorded Yard Style, which included such crucial cuts as "Mount Zion" and "Nuclear Weapon." The following year, "Nuclear Weapon" was released as a single and swiftly smashed its way up the chart. The pair followed it up in 1985 with Give Thanks, an equally strong set. Clarke joined forces with the Rydim Twins for the same year's Sly & Robbie Present the Best of Johnny Clarke which features some marvelous updates of old classics.
Over the rest of the decade, Clarke continued cutting excellent singles as well, in partnership with longtime collaborator King Tubby (responsible for many of the singer's B-sides), and for more dancehall-flavored offerings with both Prince Jammy and Errol Thompson. In 1992, the singer linked with DJ Prince Jazzbo for the Rasta No Fear album, an intriguing mix of techno and superlative vocals. Equally pertinent was 1997's Rock with Me, which saw the singer joining forces with legendary producer Niney the Observer Holness.
Clarke set up his own Hit Machine label, his first album on the label being Jamaica 50, Johnny Clarke Sing, Then Dub Them, released in 2012 to coincide with the 50th anniversary of Jamaican independence. Some of his later releases are – Rasta Nuh Fear in 1992, and Rock With Me in 1997. Clarke continues to record and tour. He is regularly featured on many of the major festivals in Europe. Johnny Clarke is one of the great classic Roots rasta revolutionary soldiers based in Kingston Jamaica working on the frontline worldwide.