ANNICIA BANKS – DEBUT EP, UP FRONT – THIS LOVE – RESTORE MY SOUL – AVAILABLE FOR BOOKINGS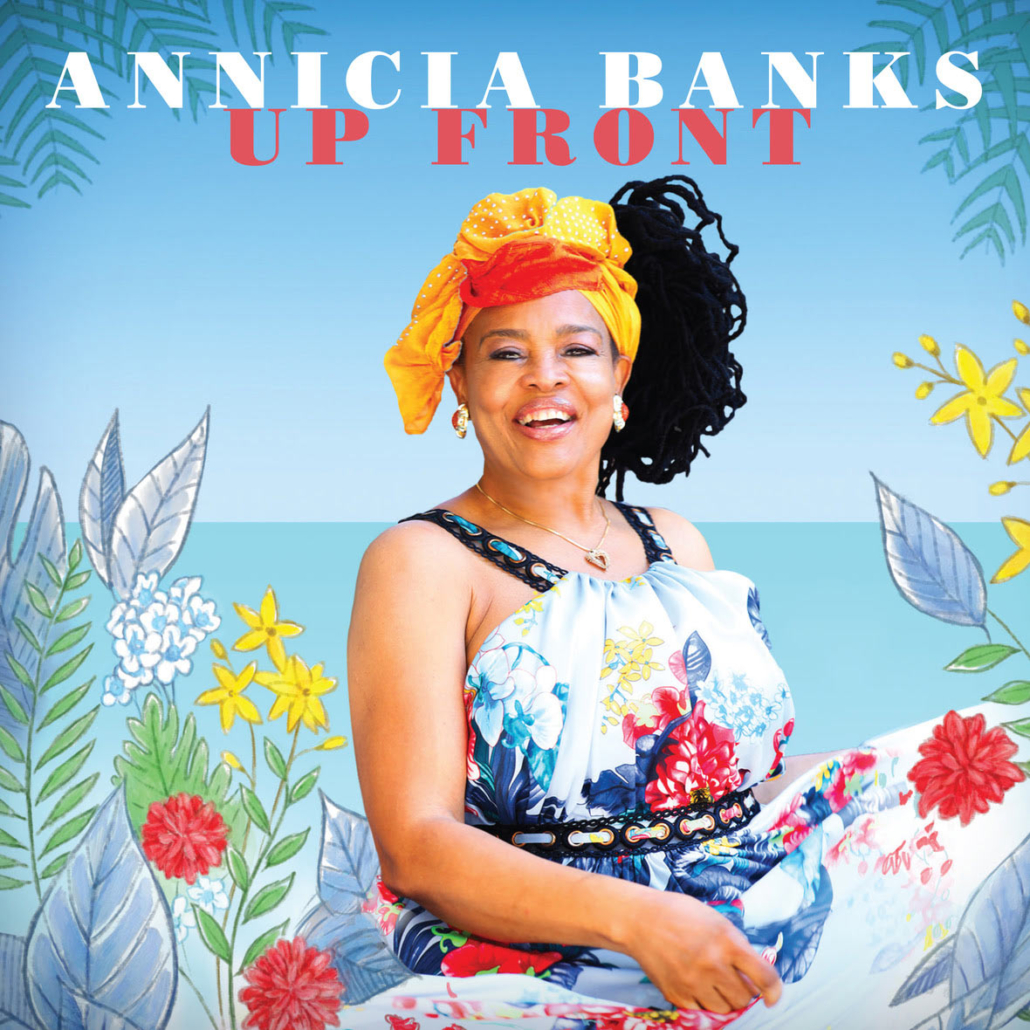 (New York, NY) Annicia Banks is a reggae singer-songwriter from Kingston, Jamaica. She has toured the Caribbean, United States, Asia, Africa, and Europe using the dulcet tones of her voice to provide background vocals for internationally acclaimed reggae artists such as Judy Mowatt of the I-Threes, Bunny Wailer, Sister Carol, Fred Locks and the legendary "Crown Prince of Reggae" Dennis Emmanuel Brown. Annicia Banks has now seized the spotlight with the release of her debut solo Up Front EP March 5, 2021. This release introduces Annicia's own original songs, including a collaboration with the late and legendary Bob Andy. The first single, released February 5, 2021, is a cover of the Dennis Brown hit "Love Has Found Its Way." This recording features the legendary saxophonist Dean Fraser. Up Front was featured on iTunes and made it to #7 on top albums! Up Front also debuted at #14 on the Billboard Reggae Charts!
Check out some of her work:
Annicia Banks – This Love (2014)
https://www.youtube.com/watch?v=9ocoPt1iOPc
Annicia Banks Hush (2021)
https://www.youtube.com/watch?v=06K6oC6_ec8
Annicia Banks Love Has Found Its Way Animated Video (2021)
https://www.youtube.com/watch?v=ZMSc4xDhAMU
Restore My Soul (2021)
https://www.youtube.com/watch?v=9QEkfYc1XfA
Reggae Interviews: Annicia Banks 'Up Front' (2021)
https://www.youtube.com/watch?v=Tbajv8vP-kA
With influences including Bob Marley, Bob Andy, Judy Mowatt, Aretha Franklin, and The Clark Sisters, Annicia Banks has provided background harmonies on countless recording sessions. She can be heard supporting a who's who list of reggae greats on a variety of classic tracks, including her cover versions of "Thank You Lord" by Curtis Mayfield and "This Love" by The Joy-Tones, which has become a staple at Jamaican parties to this day. Her all-female Light of Love trio with Sharon Tucker and Joy Tulloch has performed all across Jamaica, thrilling audiences with the sound of their euphonious voices. She was also one of the lead singers for the 12 Tribes of Israel band.
Annicia Banks showcases a treasure trove of talent with the release of her long-anticipated solo EP Up Front on the Raw Vue Music label. Raw Vue is an independent label based in New York that supports emerging and established artists via recording, publishing, artist management and strategic brand development. They were quick to recognize the raw talent of Annicia Banks and are proud to put out her debut release!
Currently residing in Massachusetts, Annicia Banks is also a mother and a world-class chef with a passion for driving long distances. Her favorite saying is "one day at a time," and she exemplifies the sincere meaning of "patience surpasses learning." The second of seven children born to Kenneth Banks and Vera Barrett in Kingston, Jamaica, at the age of eight she participated in school plays and talent shows while attending Holy Trinity Secondary School which piqued her interest in singing. During her teenage years, she participated in talent shows all across the island, where she was regularly recognized by some of the top people in the music industry.
"Delightful in its difference, this is a smoking set that announces the arrival of a talent that's been hiding in plain sight for way too long. Simply smoking."
-Midwest Record Entertainment Blog
"Her new UP FRONT EP is also her first! It's a shocking revelation when considering the power, quality and aesthetics of her voice. Annicia Banks showcases a treasure trove of talent with the release of this long-anticipated solo effort on the Raw Vue Music label. A vital release that certainly addresses issues of under-representation of women Reggae vocalists.
The first single, a cover of the Dennis Brown song "Love Has Found Its Way" featuring original saxophonist Dean Fraser, is such a steaming version that you want to keep it on the deck for several rewinds. Annicia, paying respect to the original version, soars vocally in her own way, gliding over some great harmonies on the latter part of the song. The version would have made Dennis proud and it's certainly the best one I have ever heard of this classic Reggae song.
Annica Banks is not only stunningly impressive as a vocalist, she also shines with some great songwriting, particularly on the powerfully rootsy song 'Hush.' She actually sings from the soul over a considerable vocal range and does it naturally, no gimmicks, no auto-tune. We look forward to a full-blown LP out later this year."
-Haji Mike, UK Vibe
"'Jamaica Forever' is a song of praise for the island, but it has a tough roots sound and the DJ King Kohai in support, whilst 'It's You' is a fine love song grounded in day-to-day realities. Dennis Brown's 'Love Has Found Its Way' nods both to early 70s Philadelphia sweet soul and the UK sound of Lover's Rock. It also features saxman Dean Frazer, who played on Brown's original. 'Hush' has a tough roots reggae sound akin to The Twinkle Brothers, 'It's Too Late' nods towards early 80s reggae, and Bob Andy supplies and appears on the bright-sounding 'Free, Free, Free' (some may recall him from hitmakers Bob & Marcia) though it is Dennis Brown's influence most clearly heard on Annicia's singing here. 'Restore My Soul' is beautifully sung reggae-gospel, a fine close to a very listenable set of Jamaican sounds."
-Norman Darwen, RNR Magazine (April 2021 print issue)
"One of many classics in the Dennis Brown catalog, "Love Has Found its Way" is a favorite among his fans. They include singer Annicia Banks who recently covered the song. Her version, produced by Raw Vue Music, was released in February. Brown, who died in July 1999, would have turned 64 on the 1st of that month."
-Howard Campbell, Jamaica Observer
"Singing her songs of freedom, Kingstonian queen of dancehall stands up to be counted. AnniciaBanks spent a lot of time on-stage to guarantee the success of the results of her visit to the studio whence the islander emerged with six originals and one cover which are bound to firmly establish this artiste on the scene."
-Let It Rock, DMME.net