I WAYNE – CONSCIOUS ROOTS REGGAE HIT MAKER – ROOTS & CULTURE – TOURING THE MIDWEST IN JANUARY – AVAILABLE IN MAY / JUNE 2020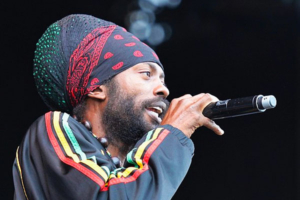 Roots and culture artists have long been a constant in Jamaica, from the influence of legends like Bob Marley to conscious dancehall singers like Garnet Silk. In the summer of 2004 a new and powerfully distinct voice emerged on the reggae music scene. With a fresh timbre, substantive lyrics, and a passionate performance, this singer almost singlehandedly led a new wave of roots and culture reggae music that swept the island of Jamaica and the word. He was embraced and greatly appreciated by the conscious roots enthusiasts. I Wayne quickly moved to the front of the pack and he is now a household name.
I Wayne was born as Cliffroy Taylor in the working class Kingston suburb of Portmore, Jamaica. He officially hit the international scene with his #1 hit Can't Satisfy Her, the first track by a cultural reggae artist to be added to Hot 97 in New York, a station noted for its hip hop preference. The tune then caught on in several markets and spent over 22 weeks on the Billboard Hip Hop/R&B Hot 100 chart. Can't Satisfy Her was a fiery description of a desperate Jamaican reality comprised of prostitution, poverty, and sexually transmitted diseases. I Wayne followed that song up with Living in Love on the Stephen Gibbs and Errol Thompson-produced Hard Times riddim.
It seemed as if I Wayne suddenly burst onto the scene, but in fact he had been refining his craft since the age of seven. Coming from a musical family, his first performance venture with local group Vibes Machine took place when he was a student at Greater Portmore High School. The collective of singers and DJs performed at after work parties held at popular Kingston clubs like Cactus and Asylum. One night, when his band mates were late, I Wayne was forced to take the stage alone. The response was tremendous. This success encouraged him to focus on his solo act, incorporating his keen appreciation for singers like Sade, Bob Marley, Dennis Brown, Marcia Griffiths, Beres Hammond, and Sizzla Kalonji, into his own style. I Wayne honed his craft by chanting DJ style with local sound systems like Diamond Cruise and The Legend. He also performed at Garveymeade, an annual Portmore event held on December 24th.
I Wayne's distinctively fluid and controlled vocals won him a record deal with VP Records in 2004, and his debut album, Lava Ground hit stores in the summer of 2005. "Lava Ground" yielded two hit singles, Can't Satisfy Her and Living in Love, as well as the critically praised title track Lava Ground. Slipping and sliding through the higher notes of the scales with a jazz singer's assurance and a reggae chanter's rough-riding rhythmic sensibilities, I Wayne's meteoric rise and his lyrical gift for piercing the veils that cloak Babylonian hypocrisies sparked a new wave of enthusiasm among the industry for this young generation of roots and culture singers and songwriters and eager anticipation for his second album, The Book of Life.
This time around, a set of spare, light-as-air roots instrumentals, produced by the finest of Jamaica's young mixing board talents, provides an elegant showcase for I Wayne's even more dazzling singing/chanting, richer melodies, and more penetrating lyrics. Neil Edwards, the project's executive producer, said "For the past year, a lot of artists have been glorifying death and destruction, so I Wayne flipped that and focused on life."
While many of his songs are didactic and full of condemnation, this time around, I Wayne simply wants to remind listeners of an essential truth – that life is a gift for which we can be grateful. "I just praise life, just deal with it naturally," says I Wayne. "There's nothing wrong with praising the sun, moon and stars and the wind, and all that create balance. Life is love and love is life."
The philosophy may seem simple yet "Life's" topical range – I Wayne's detailing of where natural balance has been lost – is typically far-reaching and deep. He covers domestic violence in Jealousy and Abuse (featuring the great Lady G); male and female intimacy in Need Her in I Arms; and worldwide divisions and anarchy in Politics and Religion. The title track The Book of Life, which is the CD's first single, provides an overview of the set, expressing things I Wayne had learned in his 28 years of life and his desire to share his experience. This is a glowing example of the personal rendered universal. This uniquely positive worldview comes across most clearly in Life Is Easy, in which I Wayne flips the script on reggae's usual recounting of the suffera's trials by reminding listeners that the way out of suffering is to give thanks for the blessings nature gives us.
"Just appreciate life as it is and praise it," he explains. "I'm against anyone who wants to change that. When one wants to tear up the Book of Life, they mess with the elements, the universe. Scientists are killing to make millions and giving false information. Just love life as it as it is and don't try to destroy. We need to care for life more. We can't have too much love for material because then we disregard life. I'm trying to keep it simple and real, just sharing some of what life has taught I. I'm not here to force anyone but to share some of life's knowledge – just being 'naturous'."
As one of Jamaica's most influential Rastafarian reggae artists committed to delivering consciousness raising, uncompromising convictions through his music, I Wayne has fittingly named his third album for VP Records Life Teachings. "We are sharing life's joys and messages, so that's why we call the album Life Teachings, I Wayne explained. "Its an unlimited thing because I am working for life and will continue doing life works. That is what I Wayne is all about."
On this album I Wayne utilizes his penchant for detailed storytelling and his haunting, exquisitely nuanced sing-jay vocals to impart various lessons throughout Life Teachings: he exalts Rastafari's holy herb (Herb Fi Legalize), rejects materialism (Wise and Fearless), predicts the imminent downfall of Babylon (Burn Down Soddom), references the teachings of Marcus Garvey and Haile Selassie (Change Them Ways), rails against the violence associated with Drug and Rum Vibes and vociferously champions teaching the youths the truth on the title track.
Understanding the significance of creating a balance in life as well as in music, several songs on Life Teachings display a divine intimacy that offsets I Wayne's otherwise blistering condemnations. The Nile, Empress Divine, I Care For You and Life Service each extol women who uphold natural lifestyles. Life Joy, produced by Marcus "Icus" Deacon, is a hit bound, sultry R&B flavored duet featuring popular Jamaican songstress Etana. "I knew Etana could deal with the song in the way I would like, but she deal with it even irier than I thought, "I Wayne acknowledged. "I had to balance the masculine to feminine, to really make it sound irie and it's more than just a joy, it's a Life Joy.
Preserving the relevance of roots reggae's proud musical traditions and lyrical integrity among a younger generation of fans is a primary objective within I Wayne's work overall and on Life Teachings in particular. Twelve of Life Teachings fourteen tracks were produced by Patrick Z. Henry, who, along with Ronald "Sonny Spoon" Wright comprise Loyal Soldiers, I Wayne's management team. Intricately crafted, organic rhythms dominate, Life Teachings rife with rugged bass lines and one-drop drumbeats punctuated by snappy horns and chiming keyboards – ingredients that have made roots reggae unparalleled in its influence throughout the world. "We decided we needed to make the music more rootical this time and produce our own thing," explained I Wayne.
We went in the studio, the musicians made the riddim tracks and set the thing proper with a roots rock vibe for higher heights." Some of Kingston's finest players are featured here including percussionist Bongo Herman, drum and bass duo Sly Dunbar and Robbie Shakespeare, keyboardist Ansel Collins, I Wayne's uncle, who topped the UK Charts in 1971 with his (mostly) instrumental Double Barrel. The inspired interactions between guitarists Lamont Savory, Mitchum "Khan" Chin and Winston "Bopee" Brown on Do The Good frame I Wayne's simply stated sentiment to do all the good you can today.
I Wayne's ethereal vocalizing, as calming as a gentle breeze can suddenly accelerate to hurricane strength gusts, was perfected through repeated appearances with local sound systems including Diamond Cruise and The Legend. It was at an early-morning sound system session when Ronald "Sonny Spoon" Wright first heard I Wayne sing. He was so impressed with the young artist he returned to the music business to manage him after having taken a break. "From the first word he said on the mike – lightning – it was like I was struck by lightning then," recalls Wright, producer of the song Wise and Fearless. I though, even if he has no lyrics besides this lightning, with his unique voice, I could work with him but when he went on for about three hours, and I heard so many great lyrics I was actually embarrassed about the thought that I had had."
"There's a lot of fight, a lot of politics and sometimes it gets overwhelming," I Wayne offers, "and because there is a preference for nastiness, positive artists don't get their fair attention. But mi stay calm and remember nature; nature was going on before any business start so it is better I keep my focus and keep writing these songs, y'know? Music is life, Life Teachings, so you just have to live on. Simple as that."