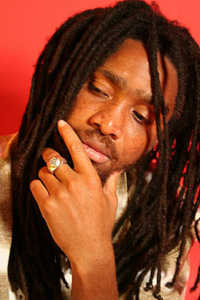 BOBBY TENNA – CURRENT HIT BRUCK ROCKSTONE – PERFORMING ON THE PETER TOSH SALUTE IN JANUARY 2020 – AVAILABLE FOR BOOKINGS
The multi-talented singer, songwriter and producer Bobby Tenna has been working and building his music career since he was a youth when he started singing as a member of his church choir. Born in Orange District, St. James, Jamaica, music was always a part of Bobby's life. Later he would hone his skills as an artist performing on the cabaret circuit on the north coast of Jamaica where he became a staple performer. Bobby exhibited a masterful blend of showmanship and style that made him stand out on the circuit.
In 2007 Bobby released his debut album Give Thanx 4 Life. The sound and lyrical content of this album was favored by radio deejays worldwide who gave his songs solid rotation on the airwaves. Through hard work and dedication to his craft, Bobby Tenna has amassed an impressive amount of popular songs which have received positive reviews from music enthusiasts and the media. Songs like Nah Easy, Children Of The World, and Ghetto Well Red made a strong impression on the listening public.
Bobby's sophomore album was Words And Melody which garnered hits like Battlefield, Hard Nut To Crack (featuring Garnett Silk, Anthony B and Capleton), Nothing Comes Easy and Nuff Nuh Mek It. The single, Battlefield was produced by Kemar Flavor McGregor for No Doubt Records. The album was mixed and mastered in Oco Rios, Jamaica by Barry O'hare. Barry is a Grammy award winning engineer who owns and runs the former Jack Ruby Studio.
Bobby's third album called Still Alive was released in 2014. This album was also mixed and mastered by Barry O'hare and Chris Paxton. The songs that stand out on this album are Still Alive, Show Them Love, Down On My Knees and Deep In The Valley. This release helped to stimulate Bobby's growing fanbase.
Bobby Tenna also has out a number of compilations including the Fugative Riddim featuring Fantan Mojah, Jah Mason and Eddie Fitzroy. Another compilation is called Me Mumma Riddim. This one features I Octane, Elephant Man, Spice, Lady Saw and Chuck Fenda. Bobby has out a number of youtube videos including Way Back, Blood Afi Run, Where Is The Love, Jah Go Before Me, and Love Songs.
Bobby has worked with an impressive list of producers including the late Smiley Minott, Sugar Minott, Kemar Flavor McGregor, Junior Fraser, Mighty Mike, DeMarco, Dr. Marshall and Barry O'hare. Bringing a fresh new sound and songs with powerful and uplifting messages, Bobby's music is currently getting a lot of airplay in Jamaica. He has had a number of strong hits including Jah Go Before Me, Where Is The Love and Love Songs. His most current hit called Bruck Rockstone features Fantan Mojah and Capleton. This song has had a strong impact amassing a lot of airplays, views and reviews. Everyone is playing this song. Bobby's team intends to shoot a video with this song in the near future and there is also a new album recorded in the pipeline. These hits along with others have cemented Bobby Tenna a secure place among reggae's musical ambassadors.