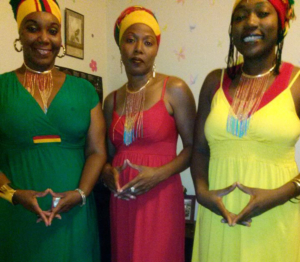 THE RASTARENES – ROOTS & CULTURE – AVAILABLE FOR BOOKINGS
RASTARENES acronym – Rasta Always Spread Truth And Rights Everywhere Naturally Ensuring Spirituality.
Over two decades ago out of the green hills of Debre Zeit (Mount of Olives), Gordon Town Road, Kingston 6, Jamaica emerged three bold and beautifully bonded sisters – Keteis, Juliet and Semra – as the roots and culture reggae group the Rastarenes.
They were in their mid-teens and early twenties when they began singing in their church choir and at community events in Jamaica. Born and brought up in the Ethiopian Orthodox Tewahedo Faith, they sing in Ge'ez, Amharic and English. Known for songs such as Selam Ena Fikir (Peace and Love), Atilaleh (purification) and In The Name Of Life, for them music is for spiritual healing.
The Rastarenes did their first recording at Tuff Gong Studio in 1994 under the auspices of Rita Marley with a single called Freedom Fighter. Some of their other more popular songs are Firm and Strong, In The Name Of Life, Atilaleh, Selam Ena Fikir, Working and Scribes an Pharisees.
For the Rastarenes singing is more than mere entertainment. With true original, organic sounds and vibrations, the Rastarenes music is to heal, teach and inspire their listeners.
The Rastarenes have performed on many shows in their homeland Jamaica such as Rebel Salute, A St. Mary Mi Come From, Fire 2000, All Spice, Everton Blender Birthday Celebration, Bob Marley Tributes, International Reggae Day celebrations, The Dennis Brown Tribute, The Augustus Pablo Tribute and The Rastafari Rootzfest.
A Journalist from Vibe Magazine in 2001 witnessed the Rastarenes on Rebel Salute and said "The Rastarenes show that Queens don't always have to show skin to prove that they have skills".
In the US The Rastarenes have graced the stages of Ashkenaz in Berkeley, CA, and The Cornerstone in Berkeley, CA on the Peter Tosh Birthday Celebration and at The World Beat Center in San Diego, CA on the Tribute to the Legends Festival, at Swabbies in Sacramento, CA, The Satalla Club in Manhattan, NY, The Dub Club in Los Angeles, CA, The Dew Drop Inn in Auburn, CA, Morgan's Harbor in Washington DC and others. Their charismatic, energetic performances consistently leave their audiences asking for more.
In production The Rastarenes are currently working with the California based label Rally Up Music with whom they have recorded many songs such as You Keep Me Strong, Praises, No Phone, Coronation and Only.
Rastarenes captivating performances have been getting raving reviews. Now is the time as The Rastarenes continue in their role as ambassadors for the Most High. They are prepared to take reggae music to the four corners of the earth. "Let righteousness, cover the earth, as the waters cover the sea."