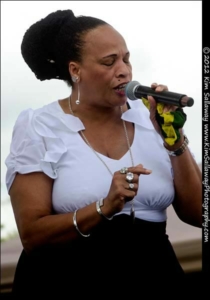 Sister Nancy, aka Muma Nancy, real name Ophlin Russell-Myers, (born Ophlin Russell, 2 January 1962, Kingston, Jamaica) is a dancehall DJ and singer. She is known to the world as the first female dancehall DJ and was described as being a "dominating female voice for over two decades" on the dancehall scene. One of her most famous songs is "Bam Bam", labeled as a "well-known reggae anthem" by BBC and a "classic" by The Observer. Russell-Myers was one of 15 siblings. Her elder brother, Robert, is better known as Brigadier Jerry, and by her mid-teens, she would occasionally perform on the Jahlove Music sound system that he worked with,[4] and worked for three years on the Stereophonic sound system with General Echo. In 1980, producer Winston Riley was the first to take her into the studio, resulting in her first single, "Papa Dean" for his Techniques label.
Russell-Myers went on to perform at Reggae Sunsplash, making her the first female deejay ever to perform there, and she is also the first female Jamaican deejay to tour internationally. She had further success with singles such as "One Two", "Money Can't Buy Me Love", "Transport Connection" and "Bam Bam". Her debut album, One Two was released in 1982. She went on to work with producer Henry "Junjo" Lawes, recording "A No Any Man Can Test Sister Nancy", "Bang Belly", and a collaboration with Yellowman, "Jah Mek Us Fe A Purpose". She continued to appear live, sometimes on Jahlove Music with her brother.
The sound system toured internationally, with both Sister Nancy and Brigadier Jerry making their debut UK performances at the Brixton Town Hall, London in 1982. In 1996, she relocated to New Jersey. In an interview with The Jamaica Observer in 2002, Russell-Myers said that although she was working in the banking sector, that "music is [her] first love" and said she still performs "every now and then". She explained that her absence from the recording scene was due to her wanting to "give other female artists a chance", though she said she was still "as ready as the first day [she] came into the business".
The Observer cited Russell-Myers a role model for a successive generation of female acts, including Lady Saw, Sister Carol, Mack Diamond, Lady G, Shelly Thunder, Carla Marshall, Lorna G, Lady English, and Lady P. In 2007, Russell-Myers released the second of her two albums, Sister Nancy Meets Fireproof, produced by djMush1, formerly of the Slackers (NYC Ska) on Special Potato Records.
Sister Nancy has recently been getting alot of work in diverse places with live bands and with track shows. She has raw talent that is being appreciated as she continues to work hard on the front line.