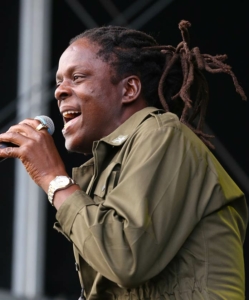 RICHIE SPICE – AVAILABLE FOR BOOKINGS IN OCTOBER / NOVEMBER
Born Richell Bonner in the Kingston, Jamaica suburb of St. Andrew, Richie Spice hails from a musical family that includes his older brother Pliers (from the deejay/singer duo Chaka Demus and Pliers of "Murder She Wrote" fame), singer Spanner Banner and deejay Snatcher Dogg. It was Spanner Banner (best known for his hit "Life Goes On") who first brought Spice to the recording studio; the hopeful singer, initially, couldn't manage the rigors of voicing on a riddim track but the opportunity opened his eyes to the proficiency required to succeed in the (reggae) music industry. "That experience show me that to reach anywhere there is a lot of work to be done," Spice reflects. Spice continued working towards gaining a foothold in the music business and before long, he met veteran producer Clive Hunt who produced his breakthrough single "Grooving My Girl", a captivating lovers rock tune that is still one of the most popular songs within Spice's repertoire. "Grooving" was initially featured on Spice's 2000 debut album "Universal" (Heartbeat Records) as was the song that would make him a household name in Jamaica, the apocalyptic roots anthem "Earth A Run Red".
In 2004 he joined forces with Kingston based 5th Element Records/Management who recognized Spice's songs had the potential to reach a wider audience. 5th Element re-released "Earth A Run Red" and shot an accompanying video; the song went on to become (arguably) the biggest reggae hit of 2004 and the New York Times named Spice's sophomore release "Spice in Your Life" as one of that year's best reggae albums (VP Records re-released "Spice in Your Life" in 2006). Since then Spice has gone on to reap numerous awards including Male Singer/Singjay of the Year at Jamaica's IRIE FM Awards in 2007 and, following his performance at the first annual "Black My Story" concert held in Kingston on Feb. 2, 2008 Spice was honored for his positive musical contributions. Spice has also released three superb albums for VP Records: "In the Streets To Africa", reached no. 6 on the Billboard Reggae chart in 2007, its hit single "Youth Dem Cold", produced by popular New York Reggae radio personality Bobby Konders, peaked at no. 59 on the Billboard Top 100 Singles Chart. "Gideon Boot" debuted at no. 1 on the Billboard Reggae chart, in May 2008, propelled by the hits "Di Plane Land" and the inspiring title track that details his vow to continually wage war for the survival of righteous reggae.
Richie Spice has performed on many major festivals worldwide such as Reggae Sunsplash, The Chiemsee Reggae Festival, White River Reggae Bash, Rebel Salute, Sting and many others. He has done many extensive tours in Europe and the United States.
The Old Testament's Book of Job considered the Bible's most profound and scholarly work, addresses the significance of unwavering faith as it relates the tribulations endured by a godly man named Job. As a series of circumstances take Job from prosperity to destitution, it is his devotion to the Almighty that carries him through his greatest adversities and ultimately, restores his fortunes. Singer Richie Spice's chose "Book of Job" as the title for his 5th album, released in 2011, because his commitment to creating uplifting music unwavering as Job's faith was while enduring his many hardships. "A whole heap of things reach Job, he lose wealth, he lose him family, him lose everything, but because he was praising God, he regain," Spice explains. "It's the same thing with the music: it is righteousness me declare to the fullest and me nah go switch. A lot of people switch and sing other songs but we say righteousness because righteousness shall cover the earth like water cover the sea. We never give up on those words. It is something that we know must happen in time." Although prevailing trends find many reggae artists glorifying an array of vices, Spice's steadfast commitment to Jah Rastafari propels his mission of using music as an honorable weapon, which he wields to stunning effect throughout "Book of Job". Whether he is extolling "The Mother of Creation" or honoring his "Father", celebrating the "Joy of Reggae" or "The Soothing Sound" that is Jamaican music overall (and Spice's music in particular) Spice's evocatively sung vocals complemented by scatted punctuations and deejayed phrases are neatly woven into organically crafted one drop riddims (courtesy of the set's primary producer Donovan Germain) yielding a benchmark release for contemporary cultural reggae. "When you sing of good, you will find that evil rise up and try to dominate the good," Spice observes. "Culture music might rise, people start to accept it and artists jump on the bandwagon but if they see evil more popular than good then they will go towards the evil. But there are artists who never stray and I will always use my talent to do good because good will always overcome evil." Since he began singing Richie Spice has dependably used his music for good, guaranteeing that inspirational roots reggae isn't relegated to a bygone era but continues as a thriving, evolving genre.
"Book of Job" builds upon those valorous efforts with a compelling mix of Rasta anthems ("Jah Never Let Us Down"), unity pleas ("No More War") selections for the ladies ("Serious Woman" produced by Shane Brown) and social commentaries drawn from Spice's life experiences ("Street Life" and "Yap Yap", produced by Stephen "Lenky" Marsden). Spice has performed throughout the world including concerts in Japan, all over Europe and in Africa, and his interactions with people from various cultures has influenced his writing. "Legal", for example, was inspired by his visit to Goree Island, just off the coast of Senegal, where slaves were held before they were shackled and forced on to ships that sailed across the Atlantic, making stops throughout the Caribbean on their way to the Americas. "That song is to honor the tribulation that those people go through at those time," Spice explains. The song's memorable hook, meanwhile, sums up the injustices that persist today: "Wi legal still dem a gwaan like seh wi illegal."
Spice targets the drugs, guns and other oppressive tools of the "Babylon" system ("some don't want you lift your head above the water…Babylon dem want to keep you in the gutter') on "Confirmation"; he urges his brothers to show respect to each other and honor their ancestors' sacrifices as he cautions "Don't Call Mi No Dog" (produced by Horace Davis): "To call one's self a dog is to lower one's self-esteem and self-worth," says Spice, acknowledging a common street slang used among the youths. "I don't feel good to hear my brothers calling themselves dogs. As an artist, it is my job to uplift the youths and teach them right from wrong, that's why I do this song."
In Spice's heartfelt prayer to the Almighty, "Better Tomorrow", he asks for strength to face a new day while expressing hope for a brighter future. "You have people out there who need help," says Spice, "and the only way for me to give dem hope right now is through music." With the release of "Book of Job" Spice honors his pledge towards making music that empowers and educates as it entertains, insuring a better tomorrow for reggae music."
A remix of one of his more popular tracks, "Marijuana", by Digital Mystikz's Coki, renamed "Burnin'" has focused more attention to him in the blossoming dubstep scene coming out of the UK. The original version of "Marijuana" also appears on the These Are Serious Times modern reggae compilation on XL Recordings.
His acoustic album Soothing Sounds was released in 2012 and features top recording musicians such as Robbie Shakespeare and Bongo Herman.
He also runs the Bonner Cornerstone label with his brothers. Richie Spice is a supporter of Food For the Poor (FFP) Jamaica, and gives a proportion of the proceeds from his performances to charity.
Richie Spice has many popular songs that have had great impact worldwide. He is one of the greatest artists to come out of the Jamaican roots reggae genre. He is well loved and embraced worldwide.