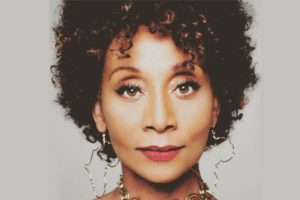 There are few artistes whose career intrigues different generations. Nadine Sutherland is one who is spanning the generations. She is an artist, whose talents are respected and admired in all age groups. Her voice is heralded as one of the best in reggae music. Her stage performances and hits are captivating and breaking boundaries. Her wide range of fans are waiting to see what is next from this diva who constantly reinvents herself.
The 'child-star' made her stage debut at the age of nine as winner of Jamaica's popular "Tastee Talent Contest" in 1979. International Reggae superstar Bob Marley signed her to his Tuff Gong label while she was a pre- adolescent. Nadine went from being known as Reggae's "Teen Queen", with hits including "Starvation" and "Until"; to garnering international acclaim as the co-lead on dancehall anthems "Action" and "Anything For You". She also had the opportunity to work with another Reggae Icon as a teenager. While still a student at St Andrew High School for girls, she was hand picked by Reggae icon Peter Tosh, to provide background vocal on his grammy award album 'No Nuclear War'. This led her to be one of the top requested studio background vocalists in the late eighties and the early nineties. Providing support vocals for Dennis Brown, Gregory Isaacs, Buju Banton and the soundtrack of Disney's Sebastian the Crab.
Considered by fans and critics alike to be the premier Jamaican female vocalist of her generation, Nadine continued to fulfill the promise she demonstrated as a child. Throughout the 90's, Nadine remained centre-stage in the dancehall with solo hits including "Rainbow/ I'm in Love", "Babyface" and "Wicked & Wild", as well as collaborations with top deejays including Buju Banton, Mad Cobra, Spragga Benz, Terror Fabulous and Canadian singjay Snow. The hit ballad "Pair of Wings" highlighted Nadine's songwriting ability. Released near the time of the shocking death of promising reggae singer, Garnet Silk, her earnest and tender performance became the unofficial tribute. The 1997 release of her self-titled album on VP Records further showcased her depth and sincerity as a writer and a performer. The song "No, No (Not My Baby)" is considered by some music critic as one of the most powerful mother-to son ballads ever written. Having devoted most of her childhood and young adult years to her recording and performing career, Nadine took some time away from the industry to explore some of her other interests. She explored her writing skills with articles published in a weekly column in one of Jamaica's top newspaper 'The Observer'. Her longtime love of dance led to her becoming a certified fitness dance aerobics instructor.
Nadine was soon to find another area of the cultural industries in which she
excelled. This was through the medium of television. She was one of the original set of panel judges in the popular Jamaican television show Rising Stars. As the winner of a talent contest herself, she brought her life experience to Rising Stars, which was Jamaica's first live, made for television talent search.
In 2006 Nadine created her own business enterprise, Nadsipadsi Enterprises, to coordinate her many interests and projects. She also became the spokesperson for Supligen Soy, a Nestle-owned nutritional replacement popular in the Caribbean. Within a year Nadine had taken on the role of executive producer and released her mega album "Call My Name". The album gathered considerably chart's traction scoring the number one position in South Florida, number three in Jamaica and number two in New York. The hit single from the album "Big Things", was given heavy rotation in the Caribbean Reggae market and the video for the single was shown widely on several international video shows.
The release of her controversial song "Cougar" in 2009 with special features in the video with the likes of world renowned international sprinter Yohan Blake saw her embracing another side of her artistic expressions. The provocative thematic content raised a few eyebrows, however, helping to broaden her fan base.
In 2011, she realized one of her dreams which was to become a student. Influenced by Caribbean Cultural Icon Rex Nettleford, she became an undergraduate student at the University of The West Indies, studying the discipline of Cultural Studies. She was awarded a Masters in Arts in Cultural Studies in 2016.
She is currently working on finishing an album with dub producer and performer Mad Professor. Their collaborative efforts have produced the number one hit single "Inna mi Blood". Sutherland clarifies "since school, and being reintroduced to my roots, my writing is a little bit more political and adventurous".
With her academic pursuits behind her, Nadine released two singles in 2016. One was the remake of one of the tracks from the album "Call My Name" titled "Remedy" with Zyon I, the other is a reggae ton track "Never In Love" for producers Vexx Bad. Both songs have been gaining traction and airplay in Jamaica and other Reggae markets. She has increased her performing appearances and has continued to thrill her audiences with her catalog of hits, her flair for dancing and her incredible stage presence honed by her years of experience as a practitioner of the performing arts. She has returned to what truly is her calling, her music and her performing.
At the beginning of 2017, the video for Remedy was shot and made available to several media stations. Consequently, this has increased the radio play and lifted her general profile and presence the local Reggae/Dancehall market. On the international scene, her versatility and proficiency as a vocalist mastering different genres will be on display. As a song performed twenty years ago that was intended to be a demo for her being the possible lead chanteuse for the group Soul to Soul titled "Love Comes Back to You" will be released as a third single from the album "Look to the Sky". This album will be marketed to the Soul and Rand B international audiences. She shares solo vocal performance tracks with other world renowned critically and commercially acclaimed artists like Karen Wheeler, Chante Moore and Maxi Priest.
After she made her first European performance at arguably the biggest Reggae festival in the world, Rototom in Spain this August, she was appointed The Director of The performing Arts for the Challenge Charter Organization in Far Rockaway New York. In a relatively short time, she is credited for implementing the Alvin Ailey Arts in Education program in the schools curricula.
In today's overtly sexual and over-produced music market, Nadine Sutherland
makes a deliberate effort to portray a sense of style and sophistication. She is a multi -talented female performer, who has been described as "capable, sexy and hauntingly beautiful, with uncompromising flair and intelligence". Songs from her are now considered Reggae and Dancehall classics standing the test of time just like her. Her roots are embedded in the very heart of Jamaican culture. Although she has already accomplished so much in her life, Nadine has no intention of slowing down.