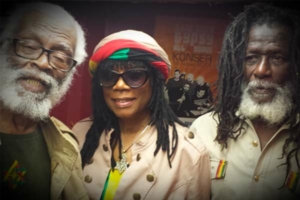 The legend goes as follows. In the 70's the seminal reggae producer Lee "Scratch" Perry walked into the Rastafarian devotional singer "Ashanti" Roy Johnson's backyard with the intention of purchasing a bread-fruit tree. Johnson was strumming his guitar and singing the lyrics to Fisherman. Scratch invited Johnson, along with Cedric Myton of The Tartans, into his iconic Black Art Studio to do some recording and they ended up recording a full length album. Scratch had rounded out the vocal trio with the baritone vocalist Watty Burnett, who was a session vocalist at his studio. The result of these sessions was the classic album – Heart of the Congos. Heart of the Congos was definitively a Rastafarian work with references to Babylon, Christianity and the Bible in their lyrics. Heart of the Congos is recognized as a landmark album of reggae music. Some of the song titles on that album are Open Up the Gate, Sodom & Gomorrow, La La Bam Bam, Ark of the Covenant, Congo Man, Fisherman and Thief is in the Vinyard.
The Congos have continued producing many strong albums and touring internationally, especially in Europe. After doing some touring in North America, Cedric Myton ran into some difficulties with Babylon and was unable to get a US visa. The Congos stopped performing in the US for over a decade until 2013, when they re-emerged in the US without Cedreick Myton. Cedrick Myton who sang the groups high vocal parts was replaced by Bunny Brissett who currently sings with Israel Vibration and has been singing professionally in the Reggae circuit for many years. Bunny sang harmony with Judy Mowatt and used to work with the legendary Augustus Pablo. Pablo produced an excellent album with Bunny called Better Safe the Sorry. Bunny is an excellent replacement for Cedrick with her beautiful perfected high vocal parts.
Ashanti Roy, Watty Burnett and Bunny Brissett do an outstanding job representing the Congos. All three of these vocalists are exceptionally talented singers who consistently work on their craft. Fortunately for those of us in America, the Congos show goes on. The magical Congos sound continues live in North America. The Congos did a short US tour in New York and California in September, 2013 and they were a highlight performance on Reggae on the River in August 2015. The Congos are an excellent Festival act.