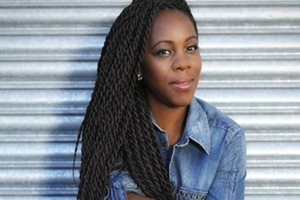 Marla Brown is the youngest child and daughter of the late great Crown Prince of Reggae Dennis Brown with his wife Yvonne Brown
Better Days single peaked No.8 in the UK Reggae Chart 2015
Debut E.P. Deliverance peaked No.5 in
iTunes Reggae Chart in first few hours upon release
"If this EP is any indication Marla Brown will continue to present her
thoughtful, conscious lyrics sung in a tone that is cultivated from great
genetics and hard work." – Reggaeville
"Marla Brown has taken the moniker The Crown Princess of Reggae.
That comes with great expectations for the future and Deliverance is
certainly promising."- Reggaemani
"Confident and ready to take this reggae world by storm, Marla lyrically
and vocally demonstrates she has much to say and has the capacity to
secure her own place in the hearts of music lovers." – Ital Roots Radio
"She delivered a brilliant set, which sent the audience into sheer
nostalgia as her performance reminded them of Dennis Brown." – Jamaica Gleaner.
Deborah Adela Marla Brown, popularly known as Marla, is the youngest child of the late, great Crown Prince of Reggae, Dennis Emanuel Brown. Marla has been successfully performing as a singer in Europe, South America and Jamaica. After working as a professional dancer in Europe she went on a trip to Jamaica on a vacation and performed as a singer on her father Dennis Brown's tribute concert. The performance went well and afterwards she started focusing on building a career as a singer. Marla recorded her first single called Better Days which featured her own original lyrics and a video was also made to accompany the single. Better Days had an overwhelmingly positive response and gained much success worldwide. The song reached number 5 on the UK charts. Marla's voice is very sweet and strong and she has an uplifting presence and message in her music.
With much experience as a professional working in the arts, young Brown is no stranger to performance and entertainment. Having Ballet, Street and Contemporary dance as her foundation, Marla has performed extensively around Europe for over 14 years as a dancer. A past Ambassador for the 2012 London Olympic and Paralympic Games, a semi finalist in the Hit TV Show Britain's Got Talent and noted dancer for the sporting Giant Adidas, she is well known in circles around London. Garnering English national championship titles, extensive theater productions and showcases around Europe, this young empress is destined for the stage.
With such achievements, Marla is continuing on her father's legacy in her own heartfelt way. "Music and Art have been embedded in my heart and soul from young so it is an organic movement to enter the music world on a professional level and share my love for it with others."
Marla's debut as an artist took place at London's famous Jazz Café in November 2013, as the guest and opening act for the event "Grooving with the Legends," Bunny "Striker" Lee's 46th year Anniversary within the music industry. With an encore of applause and enjoyment from the audience, this was just the beginning for the young Princess.
From there she flew to Kingston Jamaica to launch her solo career and represent her father during Reggae Month in February 2014, performing at various shows in and around the island. With extensive radio and magazine interviews, shows and appearances, it was Marla's impressive performance at the Dennis Brown Annual Tribute Show (held by Jaria Jamaica) where she really made the Brown name shine bright.
As quoted by the Jamaica Gleaner newspaper, "young Brown delivered a brilliant set, which sent the audience into sheer nostalgia as her performance reminded them of Dennis Brown. Remarks about how much she resembled her father could be heard all around the car park. Her renditions of Silhouette and How Could I Leave were obvious crowd-pleasers, but it was her original song, Here Comes the King, that gave Marla her biggest and most favorable response from the crowd. The song was dedicated to her father and was her own personal tribute to his life and work. Following her performance was a presentation of an International Reggae Day Award, dedicated to The Crown Prince for his contribution to the genre."
Marla's debut single, Better Days (available on itunes April 12th, 2015) was produced by Royal Order Music and premiered by David Rodigan on BBC 1XTRA. Better Days demonstrates Marla's writing and vocal skills and as Marla explains, "is an upful declaration to my people that no matter what challenges you may face in life, you will not and shall not face it alone."
With many musical collaborations with some of Jamaica's finest artists and producers, this young Princess has a bright, exciting future ahead within the music industry.