The Abyssinians ft. Bernard Collins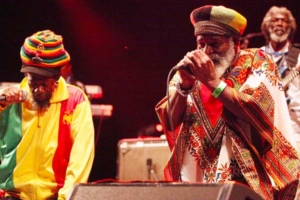 Few reggae acts better capture the heart and soul of roots reggae music than the Abyssinians. Their deep catchy melodies, Rastafarian themes, and beautiful harmony arrangements all delivered with a deep spiritual feeling were instrumental in defining and refining the entire reggae genre. Bernard Collin's lead vocals anchor the Abyssinian's hit songs such as "Forward On To Zion", "Declaration Of Rights", "This Land", "Wicked Men" and "Know Jah Today".
Music and singing were always around Bernard Collins in his childhood. His mother Ethel Parkes used to teach piano lessons. While growing up in Riversdale Jamaica he had the company of hot r & b music on the radio at nights and he had religious music at the Seventh Day church attended by his family.
By the time Bernard moved to Kingston in the early 60's he was "one hot crooner". While scatting with friends such as Douglas Whittingham and George Henry at their homes on Bob Marley's White Road in Trench Town, that Collins started to perfect what was to become one of reggae's most recognized and valued voices. With the support and guidance of other luminaries such as Leroy Sibbles, Bernard carefully developed his experience at crafting musical works. "Girl I'm Gonna Dance Tonight" was one of his early efforts.
After a stint at the Chestervale Youth Camp as a radio technician, Bernard returned to Kingston with a renewed taste for singing. In this time Bernard met Donald Manning and started a musical friendship in which they worked on music together with Mannings strumming the guitar and Bernard singing at the stables by the horse race track.
Bernard's admiration and love of his African heritage led to his participation in an outpost of the Ethiopian Orthodox church. He learned about the glories and majesty represented by centuries of Ethiopian church history. In the same "church" yard one night in 1969 Bernard Collins and Donald Manning drafted the blueprint of a song that would launch them into the canon of reggae greats. The song they were nurturing was recorded and went on to become reggae's most popular song of all time – Satta Massagana. Satta Massagana quickly gained momentum as an anthem traveling from the radio airwaves to the churches of Jamaica.
With this song Bernard and Donald felt the power inherent in their efforts, and along with a young third vocalist the newly formed Abyssinians sallied forth into the turbulence of Kingston's music scene. In 1969 the new lineup approached the producer Clement "Coxsone" Dodd. Dodd had produced "Happy Land" and he agreed to record the trio. At first Dodd was unhappy with session's outcome. In his opinion, the Jamaican record-buying public would have little if any interest in the Abyssinians revolutionary Rastafarian themes. Reggae was still a relatively new genre, and in its early days, it was brightly upbeat, yet the trio had slowed the beat down and smothered it in plaintive melodies in a minor key. Who in their right mind would buy such music? Who, indeed?
The answer came in 1971 when the Abyssinians bought back its tape (for a ludicrously inflated sum), and released "Satta Massa Gana" as a single on their own Clinch label. The song's deeply devotional message, its dreams of far-away Africa, its throbbing rhythm, and its melancholy melody struck a chord across the island, and the song was an instant classic. A label battle between Clinch and Dodd's Studio One label was now sparked. Belatedly realizing what he'd let slip away, Dodd quickly released "Satta Massa Gana" himself, backed with "Jerusalem," admittedly in very limited quantities. A rush of DJ versions inevitably followed. Dodd released two instrumental versions, "Night in Ethiopia" by pianist Jackie Mittu and "Cool It" by saxophonist Tommy McCook. The latter recorded another instrumental version for Clinch, "Mandella," while the label also put out several DJ versions, including two by Big Youth and one by Dillinger. Other DJs soon followed suit, but the most innovative was the Abyssinians own toasting take, "Mabrak," on which the Abyssinians recited passages from the Bible in Amharic.
The Abyssinians released three further hit singles in 1971. The first was "Declaration of Rights," and never has a call to revolution sounded so sweet and heartfelt. The equally evocative "Jerusalem" also appeared in 1971, and completing a quartet of hits for the year was "Let My Days Be Long." Over the next few years, the trio continued releasing excellent singles, both on Clinch, as well as recording for other producers. However, in a musical scene renowned for its prolific output, the Abyssinians recordings were now to come few and far between, at least by Jamaican standards. But what records they were: 1972's "Leggo Beast," a simmering blend of deep roots and soul, and the deeply religious "Yim Mas Gan," excellently produced by Lloyd "Matador" Daly were some of the more notable singles released.
The trio finally cut its debut album, Forward Unto Zion, in 1976, with producer Clive Hunt. Including hits, re-recordings of older classics, and new material, the record remains a roots masterpiece and brought the group great international acclaim. Their follow-up album, Arise, was released in 1978 through a deal with Bob Marley's Tuff Gong label. Arise brought the hit single "Hey You". The Abyssinians went on to release several albums and singles with Bernard's lead vocals anchoring their most memorable songs such as Forward On To Zion, Declaration Of Rights, This Land, Wicked Men and Know Jah Today. In the late '80s, Collins resurrected a new Abyssinians and released two singles, "African Princess" and "Swing Low," on the Clinch label.
in 1993 the Heartbeat label released an excellent best-of album, Satta Massagana. France's Music Disc considerately gathered up non-Clinch material for The Best of the Abyssinians the following year. Two sublime dub sets, Tabou's Satta Dub and Heartbeat's Declaration of Dub, appeared in 1998. The Abyssinians promptly released a new album, Reunion, the same year, which featured Mannings and Collins indeed reunited. However, it was a short-lived reconciliation and the next year Collins, with a new lineup released The Last Days, credited to Bernard Collins and the Abyssinians.
In the early 90's Bernard reunited with childhood friends George Henry and Melvin Trusty. In 1994 Bernard fronted this trio on trips to Japan, Europe and the UK. where their performances were greatly applauded and appreciated. The Abyssinians, fronted by Bernard Collins, are one of the most spiritual reggae acts available and one of the greatest reggae acts in the history of Jamaican music. Their music spreads a message of faith, peace and love all over the world. Their catalog is moderate in quantity but their music has made a great impact.