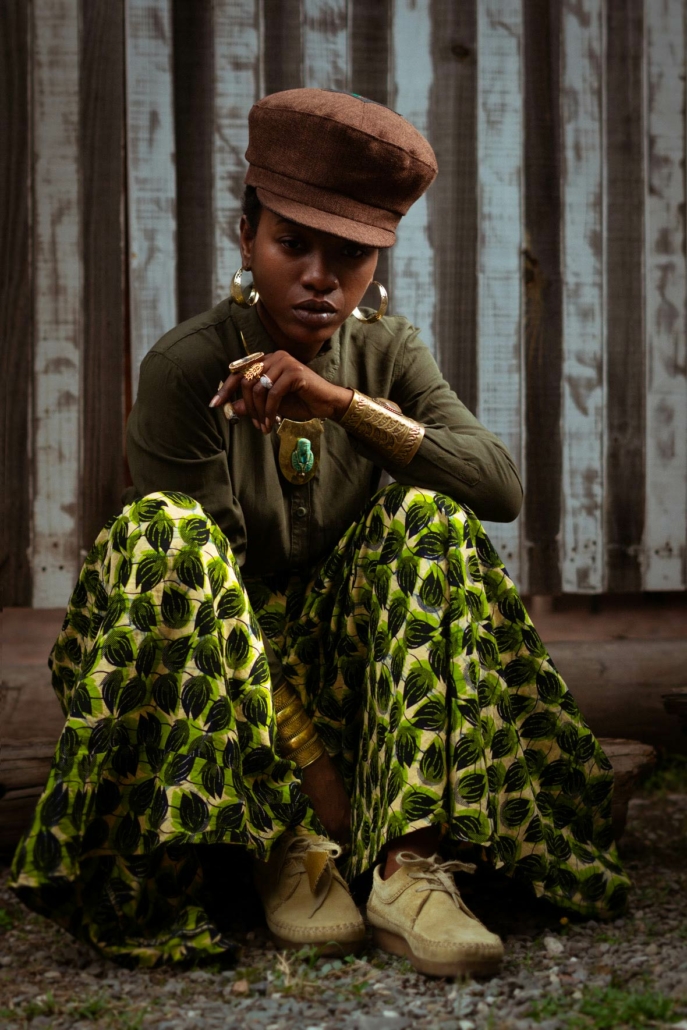 HEMPRESS SATIVA – TOURED THE WESTERN US IN JULY / AUGUST – PERFORMED ON THE NORTHWEST WORLD REGGAE FESTIVAL & THE BELOVED FESTIVAL – AVAILABLE FOR BOOKINGS
"My Muzik is peculiar and I don't anticipate
Everyone to like My Muzik … for I MuzIk deviates from
What is standard, normal, or expected."
-Hempress Sativa
Inimitably, Hempress Sativa is rightly regarded as a prolific Singer/Songwriter to nascent from her Generation of 'Conscious Roots" purveyors. An anomalous talent, whose expressive writing skills with sharpened delivery commands the attention of her audience in each performance; with an uncanny ability to keep all listening as if in a trance, absorbing her every word, every rhyme.
Her music though generally traditional of the Deep Roots, Rock Reggae genre; at times crosses boundaries and may reflect variants of Hip Hop, Afrobeats and R&B with the sultry serenade of (Kushite Love) exemplifying her agility as a diverse artist.
Born Kerida Johnson to Ras Tafari parents Doris Ray Ricketts and Albert 'Ilawi Malawi' Johnson, Legendary Selector (Originally of Jah Love Muzik), Drummer, Producer and Singer/Songwriter who would become her greatest influence.
Her father would summon almost 4 years old Sativa and older siblings to the 'Control tower" which was a room he create to host his sound system equipment and Vinyl records. Located in the Ghetto of Mona Common, Papine, this two bedroom board house was the meeting ground for the family and community to be entertained. Routinely, for his upcoming session he would methodically create an "Orthodox" selection which MYSTICALLY resonated with the Hearts of the masses who ventured near and far to hear Ilawi play. Known for his vast collection of conscious Orthodox Rasta material, Ilawi would skillfully place the needle on the turntable, playing a version, and confidently he would hand the Mic to the offspring who dared to go first and it was there that Sativa would succumb to these encounters and began to develop her extraordinary talent.
"Yes I've been rocking to this beat
from mi mami belly, Ilawi selecting the records
Dj a Brigadier Jerry, from flash'it in a JahLove dance
A gallop like a donkey"
Verse by Hempress Sativa, an ode to the first encounter with an intangible embrace the verse speaks to Sativa's early exposure to music.
Woven from a rich tapestry of musical history, Hempress Sativa's early exposure to the "Sound System Culture" inculcated the creative forces, she accumulated to carve out her own Niche. Not only with impeccable Style of African garbs and Clarks boots but a distinctive Sound of fast "Choppin" lyrics, Rhythmic cadences and patterns to be Dubbed the "Lyrical Machine". Her aptitude for music helped shift cultural narratives with "Hard hitting Verses" she proved a female could not only rival her male counterparts but also supersede the standards set.
Hempress Sativa's first performance was at the age of thirteen at a Twelve
Tribes of Israel Showcase at the once King Bebo Lawn. The show featured artistes of great magnitude but the act that resonated most with the elder Rastafari crowd was the rhapsodic melody of Sativa's voice – a voice bigger than the body from which it was belted out as she sang "Tyrone", a cover by rhythm and blues/roots artiste Erykah Badu. Her background vocals were done by her sisters group Tajai, which included two other members who were sisters as well. Sativa got a great applause and was requested to do an encore.
Since rising to prominence in 2013 with chants like "Judgement", "Marching Out of Babylon", "Ooh Lalala", "Jah have mi Back" Hempress Sativa has consistently maintained her presence both on the local and international market with Mellow Moods "In a Jamaica Pt. 2", Kabaka Pyramid "All for One", Micah Shemaiah "Motherland" and "Dread at the Control" 'Still Surviving" and "Freedom".
Hempress Sativa has graced the Covers of magazines such as Backayard, Hotbox, Irie mag, Riddim and Abana Magazine yet remains a humilitant soul whose moral fibres are strongly governed and deeply rooted in her Ras Tafari Livity that is consistently conveyed in the contents of her songs.
She has been a popular name on the Jamaican scene for years performing at Rebel Salute, Sumfest and Digicel's "Bob Marley" sponsored events.
In 2015.Hempress Sativa completed a tour in the US south including Louisiana, Atlanta, Texas, and Miami. She conquered uncharted territory in Minneapolis whilst supporting Hopeton "Scientist" Brown at the Red Bull Sound Select, who introduced her sounds to a sold out venue receiving great reviews and new fans.
She's also broken grounds with appearances in Mexico and mapping through the US west coast from Seattle, WA to San Diego, CA for The Sierra Nevada World Music Festival, High Times Reggae on The River, Northwest World Reggae Festival and Tribute to the Legends at the World Beat Center in San Diego.
In 2017 Hempress Sativa released her debut album "UnconqueRebel" independently produced by label Conquering Lion Records with collaborated efforts from Ranking Joe on the track title "Natty Dread" and anthem songs such as "Rock it In a Dance" and "Wah Dada Deng" mixed by Paolo Baldini yielding 11 million views and counting on Youtube.
Hempress Sativa Embarked on her first tour of Europe spanning throughout Belgium, France, Spain, Italy and England. She did an impressive set at Reggae Geel expertly backed by her band UnconqueRebels. At Rototom Hempress dominated the Main stage as a first timer with a remarkable noteworthy performance manumitting her single "No Retreat" which samples the late Junior Murvin which was an instant favorite with the audience. To the delight of the crowd, Hempress Sativa displayed strong hegemony over the Vina Rock Festival stage in Villarrobledo, Spain with another remarkable set.
2018 the sophomore project "Scientist meets Hempress Sativa in Dub" LP dropped featuring 10 analog, mixed tracks from the Scientist adding to her ever growing catalog.
Hempress Sativa is a multifaceted talent, propelling Jamaican music into the future maintaining a strong foundation that makes her music Timeless amidst procuring the Vinyl culture.
Hempress Sativa's lyrics are spiritedly influenced by her Rastafarian culture. This is conveyed in her song Judgement in which she chants "No More Illusion, Rastafari is real". Her music, although generally rooted in traditional reggae rhythms, also at times, crosses genres and may reflect traces of Rhythm and Blues, African and even Hip-Hop influences as evident in the anthem – Jah Have Mi Back. Singles such as Get High and Children of the Emperor created a buzz both locally and internationally, exemplifying her musical agility as a melodic singer and a lyrically skilled Chantress.
Oh La La Laa is an espouse of a hip hop anthem advocating the decriminalization of marijuana – an issue that touches the heart and consciousness of Hempress Sativa. The incarceration of people worldwide has inspired her mission to educate people about the healthy uses of marijuana, its medical purposes and products. She recorded a song called The Weed Thing.
Dubbed The UnconqueRebel Lioness, Hempress has been creating waves both locally and internationally with songs like Freedom, Rastafari Rise, Still Surviving, Wah Da Da Deng and Mellow Mood's Inna Jamaica Pt.2 which is a collaborative effort featuring Hempress Sativa and Forelock.
She performed two years in a row at Rebel Salute in 2013 & 2014, Reggae Sumfest 2013, Bob Marley Week Celebration 2012- 2013 at the Emancipation Park and 2014 at The National Stadium Car Park, Digicel 5k Celebration in Downtown Kingston, The Independence Day Street Dance 2013, Wickie Wackie Live and Live from Kingston.
January 10, 2017 Hempress Sativa hosted an album launch gathering in Kingston Jamaica celebrating the release of her new CD Unconquerebel The gathering was a great success with many of the top roots reggae artists coming out and giving her their love and support.
Kerida Johnson aka Hempress Sativa's debut album called Unconquerebel. features thirteen tracks, in which the lioness roars from the den of Conquering Lion Records, with executive producer Christopher Mattis pon di controls and additional mane-shaking by DubRobot (We All) and Paolo Baldini (Wah Da Da Deng).
The release date and cover were laden with symbolism: while the former falls on the celebration of Ethiopian Christmas, the latter displays an homage to the high culture of Egypt and, of course, to the cultured high of Cannabis. This conscious construction of meaning is reflected in the lyrics as well. Among the issues touched are anti-war slogans in No Peace ("There will be no peace, if peace is wrought by war!"), spiritual musings in Jah Will Be There, Made I Whole or Heathen Wage and the rebellious outcries such as Revolution or Fight For Your Rights that gave the album its title.
Except for the only feature of the release, the skanky Natty Dread, which brings veteran MC Ranking Joe to the fore, the release is held in a deeply meditative, instrumental Dub style. It is a pleasure to listen to the musical melodies enfolding under the cunning hands of master musicians such as Errol "Flabba" Holt, Earl "Chinna" Smith, Kirk Bennett, Devon Bradshaw, Robbie Lyn or Stingwray.
Twisted Sheets, the most melodious track on a wonderful Roots Reggae beat, is actually the only one about the weed that gave the singer her name, and with the bedroom-tune Black Skin King, she boldly elaborates on the "sheets" metaphor.
The ultimate strength of the album, however, is the radical appreciation of Jamaica's rich soundsystem culture. With Rock It Ina Dance, the Hempress takes us back to a time where the success of a singer was so directly linked to his or her ability to ride any riddim and find the right words to make the audience listen that studio recordings were secondary in importance. These Dub School vibes are continued in Boom, during which Sativa welcomes us to the J.O.E. Yaad in Vineyard Town and grants us a glimpse of what it might be like to experience this artiste live.
Hempress remains a staple on the Jamaican soil with her installment of Hempress Sativa Live which is geared at showcasing the most promising and the best on the Island. Hempress Sativa is pushing up her pace on the frontline. She is definitely an artist to watch. She lists her muzikal favourites as Sade, Lauryn Hill, Dezarie, Burning Spear and Ijahman Levi. Hempress Sativa is a multi faceted young talent, propelling Jamaican muzik into the future while maintaining a strong foundation in her culture.