REGGAE ANGELS – NEW ALBUM RELEASE – REMEMBER OUR CREATOR – WITH SLY & ROBBIE – AVAILABLE FOR BOOKINGS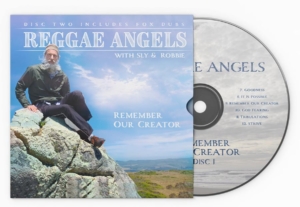 It is with great enthusiasm that Kings Music International and Zojak World Wide announce the release of Remember Our Creator, the new album from the Reggae Angels scheduled for release on April 2, 2021. The physical album is a two disc package featuring vocal and dub versions. This album, as well as the back catalog, can be purchased through www.reggaeangels.com. The Fox Dubs version is scheduled for digital release April 16, 2021. The Reggae Angels are a world class reggae act based in the San Francisco bay area with a catalogue of fifteen CD's. They have been recording and performing conscious roots reggae for three decades. The message of this album focuses on themes such as remembering God, living in love, gratitude, patience and contentment.
Remember Our Creator features the multi-Grammy award winning legends, masters of groove and propulsion, Sly Dunbar and Robbie Shakespeare on and drums and bass. Also featured on the album are Dwight Pinkney on guitar, Patrick Murray and Franklyn 'Bubbler' Waul on keyboards, Dean Fraser on sax, the late Ronald "Nambo" Robinson on trombone and Okeil Mckentyre on trumpet. Additional bass work is done by Christopher Meredith. On melodica is Augustus Pablo's son, Addis Pablo and on percussion is Alton "Sandrum" Vanhorne. On background vocals is Ellenore "Brady" Walters who sang on the previous three albums.  Lead vocals were done by Peter "Fenton" Wardle. The previous two Reggae Angels albums, The Way and Rely On Him also feature Sly and Robbie. Everyone who performed on the new album put their many years of experience into the project to give it life, depth and flavor.
Remember Our Creator was recorded by Peter Wardle at the Workshop in Oakland, CA. Additional recording was done by Orville "Rorey" Baker at the One Pop studio and by Delroy "Phatta" Pottinger at the Anchor studio, both in Kingston, Jamaica. Remember Our Creator was mixed and mastered by the world-renown engineer Jim Fox at the Lion and Fox Recording Studio in Washington DC, who has mixed their last 6 albums. The album will be distributed by Zojak World Wide and available for purchase on iTunes, Spotify, Amazon and a variety of other major online retailers. The Reggae Angels inspire the listener with words and music- reminders and guidance towards more God-centric living.
The Reggae Angels have performed on many major US and European festivals. They have toured extensively in North America, Hawaii, Canada and Europe and have also performed in South America and Africa. They have done five US tours backed by Sly and Robbie. In May, June and July 2019 they toured backed by Sly Dunbar, this time with Lloyd Parks replacing Robbie Shakespeare on bass, co-billing with Mykal Rose. This was a major 5 to 6 week US tour on which they headlined four festivals across the US including Reggae in the Desert, The Fibark Music Festival, The World Village Festival and The Caribbean Vibes Festival. The Reggae Angels live show is well established from years of high-energy performances with a prophetic message and a happy, uplifting sound.
BIOGRAPHY: REGGAE ANGELS
Currently based in Oakland, CA, the Reggae Angels have been performing for three decades in North America, South America, Europe, Africa, Hawaii, and Canada. They are well known and appreciated in the US and abroad. They have toured with many international reggae artists such as Don Carlos, Sly and Robbie and the Taxi Gang, Bitty Mclean, Anthony B, Richie Spice, Mykal Rose, Luciano, The Abyssinians, Clinton Fearon, Sugar Minott, Andrew Tosh, Prezident Brown, Junior Reid and Frankie Paul as well as touring on their own.
The lead vocalist Peter "Fenton" Wardle started performing for the public at the age of twelve playing his accordion in the streets in San Francisco. In 1982 he fronted his first reggae band called Ily in New Hampshire where he attended Dartmouth College and graduated in 1984. In 1986 he helped form a band in California called The Chosen Few. In 1989 the band re-grouped as The Elevations. Fenton sang lead and harmony vocals and played keyboards. The Elevations produced two albums – Jah Guide and Good Judgment. In 1992 Fenton started the Reggae Angels.
The Reggae Angels have a discography of fifteen albums – Guard the Honor, Truth and Conviction, Spirit, Signs and Wonders, Which Road Will You Choose, Live Positive, Come To Jah, A Heart With Love, Balance, Make Blessings, Prophetic Mission, Turn on the Light, The Way, Rely On Him and Remember Our Creator. These albums can be purchased on their website at www.reggaeangels.com Augustus Pablo is featured playing melodica and synthesizer on the earlier works adding his melodious far eastern sound. Addis Pablo, Augustus Pablo's son, is featured on melodica on the latest two albums Rely On Him and Remember Our Creator. The mixing of the early albums was done in Jamaica by Sylvan Morris, David Rowe, Soljie, Dr. Marshall and Hugh Palmer. Scientist mixed the following four albums in Los Angeles and in the San Francisco bay area. The latest seven albums were mixed at the Lion and Fox recording studios in Washington DC by Jim Fox.
The Reggae Angels deliver serious high-energy performances with a happy, uplifting sound and a universal God-conscious message. All different ages and kinds of people love and appreciate the Reggae Angels, especially the spiritually inclined. Their focus is on spreading the message of the prophets with parables and reminders towards knowing and loving the Creator and living in love and harmony with the people and the creation around us.