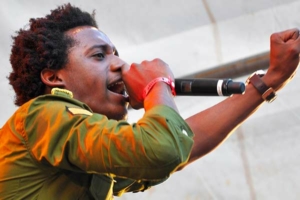 In 2007, Romain Virgo made history as the youngest contestant ever to win Digicel Rising Stars, Jamaica's talent competition, at the age of 17. Virgo was sensational throughout the 2007 competition and outshone his opponents with singing skills that seemed to stretch beyond the talent of a 17 year old.
By 2009, his career was definitely on the rise. His single Can't Sleep did well on the Jamaican charts and also gained him attention internationally. Love Doctor on the Automatic riddim is already getting loads of airplay as well as his single Wanna Go Home.
Romain Virgo manages to build his musical career while still doing a five-year bachelor's degree in performance at the Edna Manley College of the Visual and Performing Arts in Kingston, studying for a major in voice and a minor in keyboards. This education assures that Romain's performance will have a solid foundation. It already helped to earn him a performance at the 2009 Rebel Salute and performances at numerous well known dancehall parties in Kingston such at Passa Passa in Tivoli gardens and Weddy Weddy at Stone Love's Headquarters in Kingston.
Romain Virgo is well on his way to becoming another great Reggae legend with his lustrous voice and smooth delivery. In 2010, Romain opened for Capleton on an Eastern US tour, touring states such as New York, Connecticut, Boston, North Carolina, Chicago, Kentucky, Colorado and New Mexico. Romain said his main priority on that tour was to promote his new album.
"I've just been out there promoting my album and getting familiar with the fans and having them in turn get familiar with my music; it's been going really well so far. I want to use every opportunity to make my fans proud."
When preparing to shoot the video for his hit single Taking You Home, on Donovan Germain's Big Stage riddim, Romain said "Taking You Home was on my self-entitled album and the reception has been great, so we decided to do a video for it. The video for the single is being directed by Crew Media Inc."
With hard work, Romain is taking it one step at a time spreading his music to the world. He is very busy now doing shows in diverse places, letting the people know what he has to offer. Romain has also done the festival circuit and toured in Europe where the fans are loving and embracing him.