BIG MOUNTAIN – AVAILABLE FOR BOOKINGS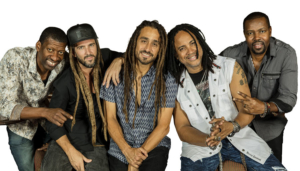 BIG MOUNTAIN – ASIA – MEXICO – UK – NATIONWIDE US TOUR WITH UB40 – HOLLYWOOD BOWL – AVAILABLE FOR BOOKINGS
Starting Aug 17 on the east coast Big Mountain is scheduled to do a nationwide tour with UB 40 lasting through early Oct, 2022. After this tour Kings Music International will be accepting offers for Big Mountain on their own. Please contact Peter, Kings Music International if you would like to discuss having Big Mountain perform.
For any of you that are not familiar with their history, Big Mountain first hit the charts in 1992 with the song "Touch My Light", a song from their debut album Wake Up. Following "Touch My Light", Big Mountain released "Baby, I Love Your Way", written by Peter Frampton, which has become one of the most well known love songs and mega commercial hits of all times. It has stayed on the top of the worldwide recurrent radio playlists for over 25 years. "Baby I Love Your Way" is an audience favorite and one of the most well known love songs worldwide. You would not believe how many plays it get every day. It's over 10,000 plays a day at satellite, radio and in store. "Baby I Love Your Way" has increased the world population as it has stimulated romance and sex for three decades. "Baby I Love Your Way" is one of the top worldwide accepted love songs of all time.
Big Mountain's next major hit single was titled "Get Together" This song became their second biggest international hit. At their live shows "Get Together" is an audience sing along which consistently lights up the crowd.
BIG MOUNTAIN live performance videos
https://bigmountainband.com/#video
Big Mountain is a seasoned main stage headliner group. In 1993 and 1994 they were one of the main acts on the Reggae Sunsplash tour. Big Mountain tours the world extensively with stints in America, Africa, Europe, China, Indonesia, the Philippines, Japan, Hawaii, South America, Jamaica, India and Australia.
Big Mountain headlined the Reggae Sunsplash festival in Jamaica. Songs like "Touch My Light", "Sweet Sensual Love", "Reggae Inna Summertime", "Caribbean Blue" and "Get Together" hit the pop charts around the world appealing to all audiences. In 1990 their song "Peaceful Revolution" became the theme song for the Nelson Mandela Presidential Campaign. Big Mountain has become one of the most internationally-recognized reggae bands of all time with nearly 2 million monthly listeners on Spotify.
January 15, 2022 Big Mountain released a double CD titled Best of Big Mountain 2000 – 2020. This album is a candy store for radio programming. International radio has embraced it on a grand scale.
Now in 2022 a new album has just been completed titled Freedom. Freedom was recorded in Kingston, Jamaica at The Anchor Studios with Big Mountain and family members featuring Sly & Robbie and Chinna Smith amongst others. The 12 songs on this new album are musically diverse with flavors of roots reggae, dancehall, Afro-pop, and Latin. Some of the song titles are "Freedom is Not Free", "Sacred Love", "Hear that Sound" and "Love is Your Culture". True to their tradition of covering favorite classic hits with the Big Mountain reggae style, this time they do a rendition of the Eagles Hotel California.
There is currently a revival of the original Big Mountain energy with the completion of their new album Freedom and a new enthusiasm for hitting the world stages on their upcoming tours in the UK, Asia, Mexico and America. Big Mountain is looking forward to coming your way.