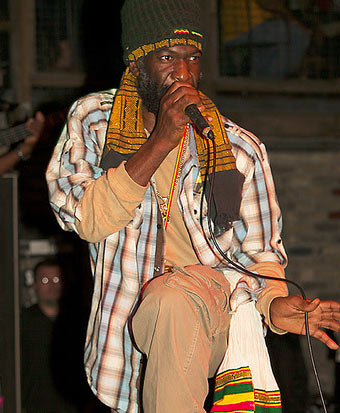 AVAILABLE FOR BOOKINGS
Knox Dixon, AKA 'Kulcha Knox', was born on the 15th of April on the high tropical mountains of Manchester, Jamaica. He is the son of the late great music/reggae pioneer, radio DJ, producer and educator Jeff "Free I" Dixon.
Kulcha Knox has traveled, toured, and performed in the African countries of Rwanda (1996), Ethiopia (1997), Malawi, Ivory Coast, and Gambia to name a few; across many countries in Europe including France, Germany, Switzerland, Italy, Spain, the Netherlands, England, and more; Israel, South America, North America, and the Caribbean.
In 1997 he released his debut album "Praise Jah Again" under the Kariang Music label. He has toured with reggae artists, Capleton, Iqulah, InI Kamoze and more. Wherever Kulcha Knox performs, his melody, energy, versatility, and unique style leave an imprint with audiences of all nationalities, creeds, and colors.
When he was young, Kulcha Knox began fashioning his career as a DJ in his home town with the Dancehall sound system, "King Majesty", owned by his uncle. He later began working with "Destiny Outernational" which consisted of Garnett "Bimbo" Silk, Tony Rebel, Everton Blender, and more. Throughout his career, there have been many notable collaborations including but not limited to "Anything for You" with Snow & friends, "Let My People Go" with Jack Radics, "Punch Line" with Capleton, "Reload My Cup" with Toussaint, and "Place In Your Heart" with Garnet Silk. Kulcha Knox has also been featured on Remixes including "Kiss an Angel Good Morning" ft. Charlie Pride, and "King of Sorrow" with Sade. He has recorded with reputable labels such as King Jammys, Penthouse, Bobby Digital, Xterminator, and many more.
Released singles include "One Word", "Tell It", "Roses for Her", and most recently "Story Come Up To Bump", "Conquer", "Kings Rise", "High Grade" and many more.
Kulcha Knox is currently working on a new album with features guests Toussaint, Lymie Murray, and Jah Mali which is near completion.
"More Life, More Music, Jah Guide"
Here is what some others in the reggae industry have to say about him –
"Naki is an authentic, organic roots & culture artist! One of the few remaining and I admire and raspect him for that. 'One Word' is one a my favorite songs, 1 Naki, there's none like him, original deejay from longtime!" ~Tarrus Riley
"Naki is the epitome of humility" ~ Sister Carol
"I have known Kulcha Knox over 20 years, and also had the pleasure to work with him in studio and also on the road. He is the most humble and kind artist I know, pure vibes, powerful vocals and lyrically strong, conscious and skilled. Kulcha Knox is an example." ~ Prezident Brown
"It's pure joy to watch this artist perform. The stage presence and confidence take the audience on a trip to a place I call Paradise, for lack of a better word. Being around him is a feeling of love and brotherhood. For an artist so talented, and I mean this; I truly feel honored to know and work with this bredren! Straight up, He's the best at what he does!" ~Messenjah Selah
"On and off the stage, Kulcha Knox is a benevolent Incient soul that has a positive irits to Rasta music and it is a pleasure to have warriors like these on the front lines of the battle of Good over Evil." ~ Steve Newland -The Lightning – Rootz Underground
"Kulcha NAKI is one of the tuffest dj in the reggae biz… A GREAT PERFORMER, GREAT LYRICIST and most of all very humble…Definitely one of the unsung heroes of reggae music…." ~Mikey General
"Naki is the original riddim rider, one of the foundation deejay's that influence a generation or two, and still hot like fire!" ~Jesse Jendah
"Naki is a good-hearted Rasta man from birth who show Raspect to everyone, if I had to describe Naki, I would use one word – LOVE. Naki full up of nothing but love and that's a true sound coming from Bobo Rems and the Rebellion Camp" ~ Bobo Rems