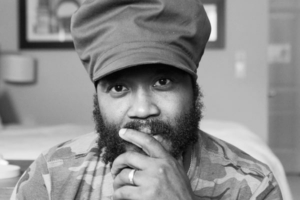 Born to Tass and Doreen Dyer in Kingston, Jamaica on July 27, 1979, Mark Dyer aka 'Warrior King' has always had an affinity for music. Like many successful Jamaican entertainers, Warrior King got his earliest stage experience on talent shows. "I started out with school concerts at first," he says. "At the time when I just came into music, I used to do some combinations with a youth named Marlon Stewart, his stage name at the time was 'Likkle Blacks' and mine was 'Bounty Junior'. We did the Tastee Talent Show among others… so we could really start getting exposure and gain experience."
In the nineties, Dyer's sound was infused with dancehall. His stage name 'Bounty Junior' indicated his love for his then mentor 'Bounty Killa', a Jamaican dancehall icon. At the age of 16, after changing his stage name to 'Junior King' it was another popular dancehall entertainer named 'Frisco Kid' aka 'Ancient Monarchy' that changed his stage name to 'Warrior King'. "I agreed because it has a more spiritual feel to it. Fighting against oppression, fighting against wrong. It represented the growth and evolution I had gone through," says King. "It's a natural thing that had grown inside of me, even without me realizing it. People started telling me they love my style of singing now. So, really and truly it was just a natural change."
Warrior King's debut single "Virtuous Woman", produced by Michael 'Lion Paw' Johnson released in 2001 was an international smash hit. Its conscious lyrics prompted the Jamaica Observer to declare Warrior King as "one of the artistes who has made a difference" in 2001. In 2002, his first album Virtuous Woman released by VP Records spent nine weeks on the Billboard charts. That same year Warrior King spent three weeks on his first tour across the United States opening for Luciano "The Messenger". In 2003, in Europe, Warrior King did a seven week tour opening for the Abyssinians.
In 2005, Warrior King's second studio album Hold the Faith, also released on the VP Records label, was also a major international success. His following release, Love is in the Air, came out in 2009 and in 2011 he came out with Tell Me How Me Sound on the Tads Records label. Warrior King's latest studio album The Rootz Warrior, released in April 2016, has a global buzz around the first single from the album "Ain't Giving Up". Each song on The Rootz Warrior album sounds distinct from the rest. There is a variety of styles and feels. The Rootz Warrior carries messages of righteous virtues such as purity, truth, strength and love.
Throughout his career, Warrior King's songs have consistently charted in the Caribbean, the United States, Europe, Asia and Africa. The singer's hit singles "Never Go Where Pagans Go", "A Friend Indeed", "Can't Get Me Down", "Empress So Divine" and "Jah Is Always There" have brought Warrior King much favor. Other hits such as "I Love You" released on Tixie's Label went number one in Japan in the early 2000's and "Baby Girl" went number one in Ghana in 2005.
In 2008, Barrack Obama, the former president of the United States publicly declared "Virtuous Woman" as being one of his favorite songs and Warrior King as one of his favorite reggae artistes on CNN Live and NBC. This distinction was further expressed by the British Formula One race car driver Lewis Hamilton on BBC Television. Among other recognitions and awards, in 2010 Warrior King also received The Marcus Garvey Music Award.
Warrior King has toured the United States and Europe extensively. He has performed on many festivals, concerts and at venues and special events across the US, Mexico, South America, Canada, Europe, Japan, Australia and the Caribbean. Warrior King has collaborated with other artists such as Little Blacks aka Persistence, Jahmali, DYCR, Beres Hammond, Barrington levy, Richie Spice, Max Romeo, Linval Thompson, Bescenta, Turbulence, Black Judah, Decodia and Yunzie. He has worked with many talented producers including Micheal Johnson (Lion Paw), Sheldon Stewart (Calibud), Bobby Digital, Donovan Jermaine (Penthouse Records), Collin York (Bulby), James Lord (Irie Sounds International), Khabir, Computer Paul, Coco Tea (Roaring Lion), Bread Back and others.
Warrior King believes that education is the key to better living and hopes that his music will serve to convey the teachings of his leader, His Imperial Majesty, Haile Selassie I. "As a Rastafarian, I understand we must teach religious tolerance, peace between all. I don't just sing music; I sing music with a purpose, a mission and love. To the four corners of the earth I carry my music, the message of the King…" says Warrior King.