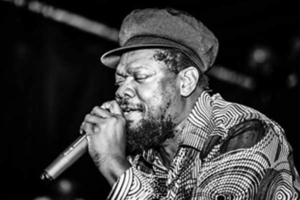 Born Joseph Jackson, in Kingston, Jamaica, July 1st, 1959, Rankin Joe was introduced to the music business at Tarrant Junior Secondary School in Kingston where he performed at school concerts and won local talent contest in the mid -70's.
As he got older, Rankin Joe participated in stage shows and parties in different Jamaican parishes for veteran singer/promoter Jackie Brown. His first performing name was DJ Jolly, and he performed with well known artists like Horace Andy, Dennis Brown, Bingy Bunny, Bongo Herman and Keith Poppin.
At the age of 15 Rankin Joe went to the legendary Studio One to audition and what resulted was his first big hit Gun Court, produced by Clement "Coxsone" Dodd and his name was changed to Little Joe. This hit song lead to more producers becoming interested in his work and as a result he recorded for more producers such as Bunny Lee, Sonia Pottinger and Sly & Robbie, to name a few.
The records he released at that time were Old Tradition by Bunny Lee, Honda 750 by Peter Weston, Psalm 54 and Jacket with Watty Burnett, Stop Your Coming and Come, by Sly and Robbie, Natty BMW with Bunny Diamond, Shine Eye Gal and Never Get Weary on the High Note Label.
As he grew older, still into a young man, he changed his name on the advice of Prince Tony Robinson to Rankin Joe. Rankin Joe worked alongside Robinson and had further hit records such as A You Mr. Finnigan, with an album of the same name.
Rankin Joe then was introduced to the King of DJ's U-Roy, after which he worked on his King Sturgav Hi-Fi, the most popular sound system in Jamaica at that time. Rankin Joe later developed his original style of fast rapping, tongue twisting and that became the most popular thing to hit the airwaves. The style (Bang-dilly) was also used by Heavy D an American Rapper.
Joe's string of successes kept rolling when he was introduced to Joe Gibbs for whom he did Leave Fe Me Girl Arlene and Bald Head Bridge done by the group Culture and himself. The latter was released as a disco 12″- 45 record, with one of the wickedest extended mixes of the "Rockers" period of the late 70's.
In 1977, Joe was voted the most popular DJ of that year, for his records that were on the charts and his performance on the King Sturgav sound system. In 1978-79 he was approached by Henry 'Junjo' Laws for the Volcano Label, the top producer during that time and he recorded an album entitled Saturday Night Jamdown Style, which was released by Greensleeves in London and VP Records in New York and was very successful.
In 1980, Rankin Joe was offered a deal to tour London for the first time with original soundsystem Ray Symbolic, alongside the promoter Errol Dunkley and Jah Screw the Selector and that lead to a tour of England.
In 1981-82, Rankin Joe toured America, Canada, Germany, and the West Indies. Since then Rankin Joe has kept up his level of artistry by performing internationally with heavyweight sound systems like Downbeat the Ruler, Blood Fire and King Sturgav. He has continued performing on many shows and festivals worldwide.