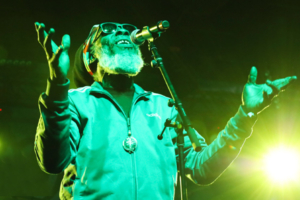 Formed in Trench Town in 1969, Jamaica's premiere vocal trio The Mighty Diamonds continue to record and perform songs from militant judgment pieces to the sweetest of lovers' rock ballads. The Diamonds celebrate the rare distinction of 50 years of music making together.
Every reggae fan has at least one favorite song by the Mighty Diamonds: "Pass the Kutchie," "Right Time," "Master Plan" "Tamarind Farm" "I Need a Roof," and the list goes on. The Mighty Diamonds are Lloyd "Judge" Ferguson, Joseph "Capo" Williamson and Donald "Tabby" Shaw.
Indeed, these veteran artists know what soul is all about. These reggae warriors have risen from the poverty and despair of inner-city Kingston to become sophisticated reggae ambassadors who have traveled throughout Europe, the U.S., Africa and Asia spreading the gospel of freedom, unity and love.
"Right Time," The Mighty Diamonds' breakthrough album on the Channel One label, elevated the group to rock star status in 1975. Produced by Joseph Hoo Kim, "Right Time" brought together the Jamaican musical elite such as Sly and Robbie on bass & drums and Ancel Collins on keyboards. This classic album generated hits such as "Africa," "Have Mercy" "Natural Natty," "Them Never Love Poor Marcus" and the reggae party album, "Pass the Kutchie," which has been sampled by everyone from Lauryn Hill to Michael Franti to Wyclef Jean. "Right Time" also established Ferguson and Simpson as to of the most influential songwriters in their genre.
In a 2009 interview, Wavy Gravy of the Grateful Dead praised the Mighty Diamonds: "I first heard them in Jamaica and I was blown away. Every time I get a chance to see the Mighty Diamonds, I'm thrilled to do it. "I think they're fantastic and fun."
Led by Tabby's ebullient tenor, the Mighty Diamonds' live show is a journey through the African Diaspora from gospel to R&B to roots reggae and dancehall, including covers of songs by the Stylistics ("Country Living") Bob Marley, ("Get Up, Stand Up") Curtis Mayfield ("It's All Right to Have a Good Time") Jester Hairston ("Amen") and Alton Ellis ("Still in Love").
Along with having more solo recordings that they can count under their belts, The Mighty Diamonds have appeared on a number of compilations including "Is it Rolling Bob? A Reggae Tribute to Bob Dylan" (Sanctuary, 2004), "Old to the New" A Steely & Clevie Tribute to Joe Gibbs Classics" (VP, 2002) and "Fire on the Mountain: Reggae Celebrates the Grateful Dead ("Pow Wow, 1996). During the Christmas season, the Diamonds' lively version of "Frosty the Snowman" (Ras Records) is a hit with young and old. In 2009, the Diamonds released "Special Lady," a remake of Ray, Goodman and Brown's 1980's ballad, on their independent label, Street Corner Music.
The Mighty Diamonds have received a number of lifetime achievement awards. In 2006, following their performance at Reggae Sunsplash in Ocho Rios, the Diamonds received a prestigious national award from prime minister Portia Simpson Miller for their artistic contribution to Jamaican culture.
In November, 2009, Congresswoman Yvette D. Clarke recognized the Mighty Diamonds with a Congressional Proclamation for their 40 years of hits and contributions to the music industry, when TSO Productions and the Coalition to Preserve Reggae Music held their 5th annual Reggae Culture Salute at Nazareth High School Performance Center, Brooklyn, NY. Check out the youtube link of the presentation: http://www.youtube.com/watch?v=CzCo0oxDoo0.
In honor more than 40 years together as a vocal trio, the Mighty Diamonds received the Ragga Muffins Festival Award of Recognition on Feb. 21, 2010. Following their performance at the sold out 29th annual Ragga Muffins reggae festival at Long Beach Arena in Long Beach, CA, Bunny, Tabby and Judge were presented with trophies on behalf of the festival and Moss Jacobs Presents.
"The blessings are there; and we are here to share them; that is the most important thing," said Tabby.
During the summer of 2011, the Mighty Diamonds returned to New Orleans where they have a rich history and connection with Crescent City. Bunny Diamond recalled being influenced by New Orleans artists such as Lee Dorsey and the Meters during their early years. In 1977, the Kingston-based singers traveled to New Orleans to record the historic album "Ice on Fire," with award winning songwriter/producer Allen Toussaint. "Ice on Fire" blends traditional reggae and New Orleans riddims, featuring Toussaint classics such as "Sneakin' Sally through the Alley, "Get out of My Life Woman," and Mighty Diamonds early hits such as "Country Living."
Toussaint recalled the Mighty Diamonds professionalism and creativity in the recording studio.
"When I'm working with artists, I try and tailor things to fit them, as if you're a fashion designer and making a dress to fit just you," said Toussaint. "Whenever I can, that's the way it's done. Of course, sometimes you'll get a group like the Mighty Diamonds, where you don't have to do that, because they come in with all their materials and all you have to do is put on a safety pin here and there, but they've got it together already. I must say that they were so prepared when they got there, there was very little to do but let them in."
On June 18, 2011, Mighty Diamonds were presented with a Congressional Proclamation from the office of Gregory W. Meeks (D. New York), for their Outstanding Contribution to the Caribbean Diaspora, thus proclaiming it "Mighty Diamonds Day."
On July 31, 2011, at the request of Grammy winning musician Ziggy Marley, the Mighty Diamonds performed on Tuff Gong Worldwide's Salute to the Legends of Reggae show, featuring the I-Threes, Wailing Souls and Ras Michael, at the Hollywood Bowl, one of California's toniest venues.
"The Mighty Diamonds are the one of the premiere male vocal trios in our genre of music," said Marley. "You have their songs, 'Pass the Kutchie' and 'I Need a Roof.' They are a group that I've loved since I was a kid. I respect them. Whatever I can do to show my love to foundation artists and give them some way to grow their recognition; that's one of my missions that I will continue in my career. It's not just about me; it's about the whole movement. We all help each other along the way, you know."
In April, 2012, the Mighty Diamonds made international news when their universal party anthem, "Pass the Kutchie," appeared on Billboard.com's "20 Smokin' Songs about Weed" list. Billboard's whimsical "Top 20" list was compiled by Billboard.com in honor of April 20, (4/20 Day), an annual celebration of cannabis culture. The Mighty Diamonds share the distinction of being on Billboard.com's list with the likes of Peter Tosh, Bob Dylan and Rick James.
In January 2015, the Mighty Diamonds headlined the Rebel Salute festival in St. Ann's, Jamaica. Take a look.
https://www.youtube.com/watch?v=80FwnoZkXLE.
The Mighty Diamonds continue to record and tour, living up to their name – diamonds are forever.