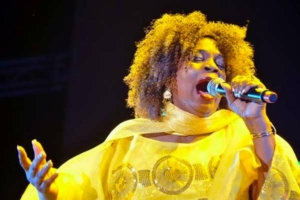 Judy Mowatt is one of the strongest, most influential female vocalists in reggae music. In addition to faithfully recording and touring with Bob Marley as one of the I-Threes from 1974 until Bob's passing, she has put out at least nine solid solo albums. Her Black Woman LP (Shanachie, 1980) is considered by many critics to be the greatest reggae LP ever recorded by a female artiste. It was also the first reggae LP to be produced by a woman.
Judy shared her thoughts, "I see another grassroots movement being born inside of the people of God. Because I think what God did inside the birth of reggae message was to uplift the people that were in degradation, the people who suffered. I mean, the music was birthed out of suffering! Out of Trench Town. It was inside of the pain and the agony that people started singing about it. It is inside of the pain that people are experiencing, where God has given us songs and he's using the Gospel as a vehicle to go inside places where we probably would not be able to go. But I see this as a continuation of what took place in the '70s in Jamaica."
Judy Mowatt is a very spiritual woman who has continued to grow and evolve on her spiritual journey over the years. In her live performances she shares with conviction her current thoughts and beliefs without compromise. Her beautiful voice is still a joy to hear, strong and true.
Judy Mowatt is a legend.
BIOGRAPHY: JUDY MOWATT
Judy Mowatt was born in the year 1948 in Gordon Town, St. Andrew Jamaica. She is an internationally acclaimed reggae artist who rose to fame as one of the I-Threes, who were the background vocalists for Bob Marley.
At 13 years old, Judy Mowatt became a member of a dance troupe which toured Jamaica and other islands in the Caribbean. Her ambition was to become a registered nurse, but instead she dedicated her life to nurse and restore healing to the hearts and soul of mankind through her music. Her earliest influences were Aretha Franklin, Otis Redding, Curtis Mayfield, Dionne Warwick, Bob Marley, Marcia Griffiths, The Staple Singers and The Soulettes. A coincidental meeting with two teenage girls who were earlier in her dance troupe led to the formation of the Gaylettes, in 1967.
Judy Mowatt associated with Bunny Livingston/Wailer in the early 1970s, and she has written some of the tracks recorded by Bunny Wailer. At that time, for legal reasons in the music business, she used alternate names such as Juliann and Jean Watt. On The Wailers LP Burnin' (1973), two songs with Bunny Wailer as lead singer were written by Judy Mowatt under the pseudonym Jean Watt – "Hallelujah Time" and "Pass It On". Furthermore, the Wailers recorded a single, "Reincarnated Soul", also written by Jean Watt and sung by Bunny Wailer. This song – with the name changed to "Reincarnated Souls" – was included two years lat er on Bunny Wailers first solo album Blackheart Man (1976).
In 1974, Judy got her big break by joining Bob Marley's backing vocal trio the I-Threes. The trio had met working in the studio and their voices had immediately blended into somethi ng special. Marley himself had recruited them to be part of his backing band, The Wailers. Judy remembered, "The first song we did was 'Jah Live' and Bob wanted us to work with him on his Natty Dread album. The I-Threes continued to work with Marley until his death."
Her Black Woman LP (1980) is considered by many critics to be the greatest reggae LP done by a female artiste. It was also the first reggae LP recorded by a woman acting as her own producer.
She became the first female singer nominated for a Grammy in the category of reggae music when her Working Wonders LP was nominated in 1985.
Judy's discography includes Mellow Mood (Tuff Gong, 1975), Black Woman (Shanachie, 1980), Only A Woman (Shanachie, 1982), Working Wonders (Shanachie, 1985), Love Is Overdue (Shanachie, 1986), Beginning (Tuff Gong/EMI, 1986 with Rita Marley and Marcia Griffiths), Look At Love (Shanachie, 1991), Rock Me (Pow Wow, 1993), Love (African Love/Jet Star, 1998) Something Old, Something New (Judy M Music/Tuff Gong International, 2002)
Judy Mowatt is currently highly respected as one of the best female artists in Jamaica.