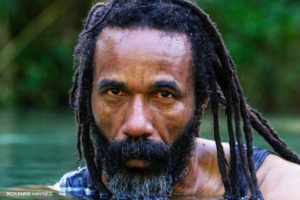 Prezident Brown, born Fitz Albert Cotterell, has been called, "one of the most interesting cultural dee-jays since U Roy". Emphasizing positive messages, Prezident Brown has continued to pioneer his own direction, developing his own approach to dee-jaying that he calls, "The chanting stylee". Born to a Seventh Day Adventist family in Colonel Ridge, Clarendon, Prezident Brown grew up in the small town of Oracabessa in the Parish of St. Mary, Jamaica.
He was forced to leave school at a young age when his father died leaving him with his mother and three sisters. Prezident Brown launched his musical career at the age of fourteen, when he began dee-jaying for the Sound King Stereo Mix at the Bamboo Lounge. Initially known as Junior Ranking, Prezident Brown was dubbed, "Slim Brown", by dee-jay Nicodemus. When he recorded his debut single in 1988 Prezident Brown was named, "Dancehall Doctor". The late Jack Ruby, producer of Burning Spear's albums, "Marcus Garvey", and, "Man In The Hills", bestowed the title, "Prezident", upon him.
In 1989, he joined Courtney Cole's label, Roof International, and began performing and dee-jaying at the Rooftop Club in Ocho Rios. In 1990, Prezident Brown became involved with producers Barry O'Hare and Steven Stewart at Grove Music in Ocho Rios. It was Barry O'Hare's X-Rated Record label that became Prezident Brown's home base and it was X-Rated Records with Runn Records that launched his career in Europe. In Jamaica the X-Rated label took off as a massive roots revival swept across the country paving the way for Prezident Brown's conscious style of reggae dee-jaying. In 1999 the Jamaican record label Kariang released the timeless, "To Jah Only" album. In 2002, Jahmani Productions released a 2 CD disc called, "Showcase Volume 1".
The 46 show tour that followed that release took Prezident Brown across the United States and included performances at The Sierra Nevada World Music Festival, and Reggae On The River. Jahmani Productions then released "Showcase Volume 2", and "Showcase Volume 3" which includes a live performance from the 2002 Mt. Shasta Renegade Music Festival. In 2004 the German based label Chet Records with Sony Records released the album, "Generation Next". Prezident Brown's most current release is entitled, "Showcase Volume 4 Health and Strength". Prezident Brown now lives in Ocho Rios, in the Parish St. Ann, Jamaica.
He continues to record and tour. He has developed a strong following in the United States and Europe, and continues to grow musically and in notoriety, as a champion of the new roots and reality consciousness reggae movement. Prezident Brown entertains, informs and inspires. His latest CD, Common Prosperity, was released in July 2009, just prior to a western U.S. tour. Prezident Brown is well pleased with this album and feels it is some of his best work to date. Prezident Brown is a serious reggae revolutionary who keeps persevering as a defender of the faith.