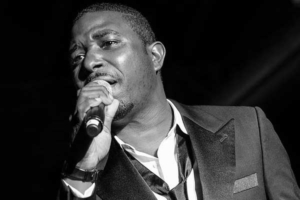 Bitty Mclean with Sly & Robbie were recently top performers on three of the best US reggae festivals – Tribute to the Legends Festival in San Diego, CA The Sierra Nevada World Music Festival and Reggae on the River. They also toured North America in June / July 2014. Bitty Mclean has many notable worldwide hit songs and he has toured Europe and Japan extensively doing festivals and club dates backed by Sly & Robbie and the Taxi Gang. Bitty's studio work is also a collaboration with Sly and Robbie.
Bitty Mclean is a much loved UK based talent with an astonishing voice and unnerving ability to pen a pop smash. McLean launched himself into the high end of the British charts with a string of Top Ten hits in the early 90s. Born in 1972, Bitty's earliest memories were punctuated with the music he would hear courtesy of his father's sound system, where he started by singing over Jamaican Dub and Instrumental riddims. In 1992, McLean not only co-produced but played and sang on UB40's hugely successful album Promises And Lies which sold 8 million copies. Bitty's own recordings including It Keeps Rainin, Dedicated To The One I Love, Here I Stand notched up 3 UK top ten singles by 1994 selling over 1 million records. The subsequent years saw Bitty accrue a fearsome catalogue of top 30 singles, as well as playing UK arena tours with UB40, Wet Wet Wet and Simply Red.
In 2004, Bitty released the superb On Bond Street, in which Duke Reid's Treasure Isle instrumentals played by the legendary Tommy McCook and the Supersonics formed the basis of the album. Bitty complemented these 35 year old tracks with such elegance it was hard to believe he was not there when the tracks were originally recorded. Bitty followed up with a major collaboration with the worlds' greatest rhythm section, Sly Dunbar and Robbie Shakespeare. The trio recorded Movin' On, a brand new studio album in Kingston, Jamaica. Featuring the hits Real Thing, Lately and Let Them Talk, Movin' On came out in 2009 to widespread critical acclaim, as the New York Times hailed it as the best Reggae album of that year.
Following tours of Europe and Japan with Sly & Robbie and the Taxi Gang, Bitty went back to the studio and recorded a follow up to Movin' On entitled The Taxi Sessions. The Taxi Sessions blends Sly and Robbie's classic hard rockers and rub a dub riddims recorded during the 80's with a first rate line up of Jamaican musicians with Bitty's trademark voice. Featuring the Riddim Twins' distinctive sound along with Bitty's songwriting and vocals, The Taxi Sessions not only reaffirms, but also solidifies Bitty McLean as one of Reggae's premier singers and songwriters, as exemplified by superb tracks such as Blessings By The Score, Brotherman or A Step Closer