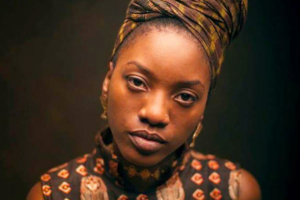 On July 15th, with more than two decades in the community of Mona Common Papine, Doris Ray Ricketts a Rastafarian mother, would give birth to a healthy albeit premature baby girl she'd name Kerida. Kerida's father was the legendary drummer and selector of Jah Love Muzik Albert 'Ilawi Malawi" Johnson. Ilawi was to become Kerida's greatest muzikal influence.
'Yes I've been rocking to this beat; from mi mami belly, Ilawi selecting the records Dj a Brigadier Jerry, from flash'it in a JahLove dance A gallop like a donkey" -D.A.T.C verse by Hempress Sativa
Ode to the first encounter with an intangible embrace the verse speaks to Sativa's early exposure to Muzik. Her father Ilawi would summon the four year old Sativa and her older siblings to the control tower, which was located in one of two bedrooms in the board house, while he was preparing his selection for the next coming dance; he would always include his family.
Known for his vast collection of conscious Orthodox Rasta material, Ilawi would skillfully place the needle on the turntable, playing a version, and confidently handing the mic to the offspring who dared to go first. It was there at home Sativa would succumb to her first love and begin to hone her skills as a vocalist that would later manifest into her extraordinary talent. Hempress Sativa's first performance was at the age of thirteen at a Twelve Tribes of Israel Showcase at the once King Bebo Lawn. The show featured artistes of great magnitude but the act that resonated most with the elder Rastafari crowd was the rhapsodic melody of Sativa's voice — a voice bigger than the body from which it was belted as she sang "Tyrone", a cover by rhythm and blues/roots artiste Erykah Badu. Her background vocals were done by her sisters group Tajai, which included two other members who were sisters as well. Sativa got a great applause and a request for an encore.
Hempress Sativa, has been performing since the age of 13, with lyrics spiritedly influenced by her Rastafarian culture. This is conveyed in her song Judgement in which she chants "No More Illusion, Rastafari is real". Her music, although generally rooted in traditional reggae rhythms, also at times, crosses genres and may reflect traces of Rhythm and Blues, African and even Hip-Hop influences as evident in the anthem – Jah Have Mi Back. Singles such as Get High and Children of the Emperor created a buzz both locally and internationally, exemplifying her musical agility as a melodic singer and a lyrically skilled Chantress.
Sativa's moral fiber is strongly governed and deeply rooted in her Rastafari livity. She sees herself as a Instrument of H.I.M Haile Selassie I First; and she maintains that marijuana as an important part of the social fiber of her culture. This is conveyed in the contents of her songs such as "Get High" a mantra type acoustic track in which she chants —
"Everytime I get high; Babylon falls every time I get high; Every time I get high, Babylon has fallen" And "Oh La La Laa " an espouse of a hip hop anthem advocating the decriminalization of marijuana – an issue that touches the heart and consciousness of Hempress Sativa. The incarceration of people worldwide has inspired her mission to educate people about the healthy uses of marijuana, its medical purposes and products. She recorded a song called "The Weed Thing."
Dubbed The UnconqueRebel Lioness, Hempress has been creating waves both locally and internationally with songs like "Freedom, Rastafari Rise, Still Surviving, Wah da da deng and Mellow Mood's "Inna Jamaica Pt.2" which is a collaborative effort featuring Hempress Sativa and Forelock.
Sativa has graced the cover of magazines such as Backayard Riddim magazine, Hotbox, Irie magajine, Abana Magazine and yet remains a humilitant soul. She has blessed the stage of some of the biggest stage shows in Jamaica. She performed two years in a row at Rebel Salute – 2013 & 2014, Reggae Sumfest 2013, Bob Marley Week Celebration 2012- 2013 at the Emancipation Park and 2014 at TheNational Stadium Car Park, Digicel 5k Celebration Downtown Kingston, The Independence Day Street Dance 2013, Wickie Wackie Live and Live From Kingston. Sativa did a Southern US tour in 2015 and also performed on the Sierra Nevada World Music Festival.
Hempress Sativa is pushing forward on the frontline. She is definitely an artist to watch. She lists her muzikal favourites as Sade, Lauryn Hill, Dezarie, Burning Spear and Ijahman Levi. Hempress Sativa is a multi faceted young talent, propelling Jamaican muzik into the future and maintaining a strong foundation in her culture. For bookings contact Peter, Kings Music International at (510) 326-8445 or at Peter@kingsmusicintl.com.